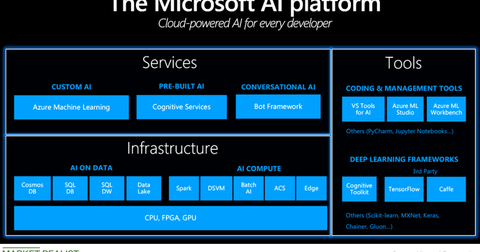 Why Is Microsoft Drawn to the AI Space?
By Anne Shields

Updated
Bonsai will complement Microsoft's prior AI buyouts
Earlier, we discussed Microsoft's (MSFT) strategic acquisition of Bonsai, which will enhance the functioning of its autonomous systems and is expected to boost its cloud offerings with AI technology.
Bonsai's focus on autonomous systems moves Microsoft's portfolio from a lower level machine-learning platform to an advanced AI platform of industrial systems, making it a comprehensive AI portfolio.
Bonsai is not the only company Microsoft has bought to boost its AI capabilities. Prior to Bonsai, Microsoft acquired Semantic Machines in May. Semantic, an AI-based startup, uses machine learning to add context to conversations with chatbots, which means it procures information received by AI and applies it to future conversations.
In early 2017, Microsoft bought Maluuba, whose strength lies in research and algorithm development for machine learning. Prior to its acquisition of Maluuba, the company acquired SwiftKey in 2016. SwiftKey is a keyboard app that uses an AI-based neural network to predict preferences for next words.
Article continues below advertisement
Microsoft's AI-focused strategy
Last month, citing Satya Nadella, Microsoft's CEO, at the VivaTech conference in Paris, CNBC reported that Nadella believes AI is the "defining technology of our times." Though Microsoft's recent acquisition is aimed at strengthening Azure, the company's long-term plan is to integrate AI into all of its main products and offerings to further strengthen its presence in the cloud space. Its offerings are as follows:
Cortana, Microsoft's digital assistant
Office 365, the company's cloud productivity suite
Services
Azure
Microsoft's focus is very timely, as the prospects expected to be created by this technology are believed to be enormous. According to a recent report by Persistence Market Research, the deep learning market, which was worth $4.8 billion in 2017, is expected to grow at a compound annual growth rate of 49% to $261 billion by 2027. Deep learning is considered to be the fastest-growing area in the AI space, as reported by the New York Times.