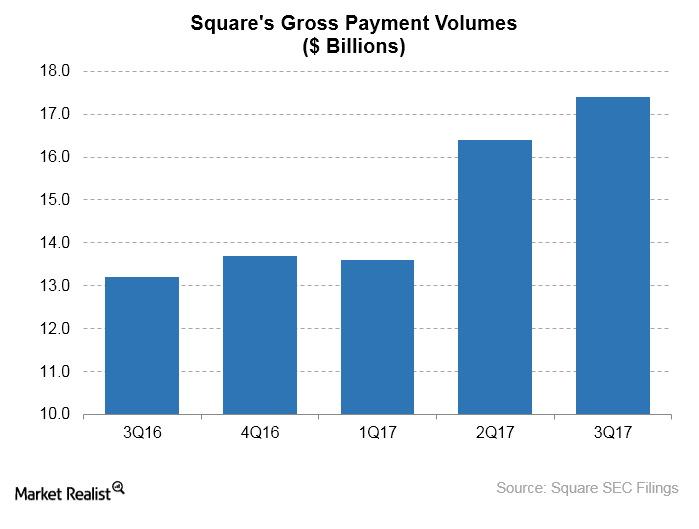 Making Sense of the Square-GoDaddy Partnership
By Ruchi Gupta

Nov. 20 2020, Updated 1:37 p.m. ET
Simplifying payments for SMBs on the GoDaddy platform
Square (SQ) has now added GoDaddy (GDDY) as an integration partner, putting it on a partnership list that already includes brands like Eventbrite and SAP SE (SEP). Eventbrite operates a live-event planning platform, while SAP is a provider of business software.
GoDaddy, a provider of website design and hosting services that are aimed at SMBs (small and medium businesses), said it closed 3Q17 with over 17 million customers globally.
The partnership between Square and GoDaddy involves bringing Square's payments processing service to GoDaddy's mobile website builder tool known as GoCentral. The integration is designed to simplify payment processing for businesses whose websites are based on GoCentral.
Article continues below advertisement
Enriching offerings to gain a competitive edge
Omnichannel strategies
As for Square, the integration with GoDaddy appears to fit with its omnichannel strategy, which involves being able to process both offline and online payments. This is a strategy that is also alive at PayPal, Square's rival in payment processing.
Notably, both Square and PayPal are going for integration partnerships as part of their omnichannel pushes.
Meanwhile, integrations such as the one with GoDaddy are helping Square drive the use of its products, which should boost sales. In 3Q17, Square said that integrations accounted for roughly 20% of its total GPV (gross payment volume), a measurement of the value of payment transactions it supports.
Square's GPV was $17.4 billion in 3Q17, which represented a 31% year-over-year rise. Through GoDaddy, Square will likely be exposed to more customers.