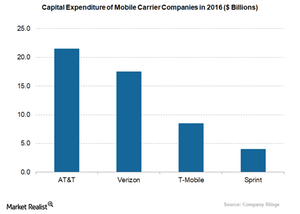 How Did the US Tax Reform Bill Affect AT&T's Employees?
By Sophia Nicholson

Updated
AT&T applauds US tax reform
AT&T (T) announced that it would pay a special bonus of $1,000 to more than 200,000 of its US employees. This announcement came soon after the US Congress approved changes to the US tax code and reduced the corporate tax structure to 21% from the existing 35%.
This bonus would be paid to union-represented, non-management, and front-line management employees. The Dallas-based telecom giant reaffirmed that it would expand its investments in the US by $1.0 billion in 2018.
Article continues below advertisement
Tax reform to benefit carrier companies
The telecom industry is a capital-intensive sector that requires extensive capital spending to maintain and improve its network infrastructure. It also provides wireline and wireless services.
Therefore, the tax cut could help phone carriers such as AT&T and Verizon (VZ) increase their capital spending, which allows immediate tax deductions for such investments. AT&T invested $21.5 billion in capital projects in 2016, up from the investments of $19.2 billion in 2015.
The tax reform bill also benefits US multinational companies that keep their profits overseas to save taxes. While Apple (AAPL) holds ~$252.0 billion abroad, software giant Microsoft (MSFT) and Cisco Systems (CSCO) hold more than $130.0 billion and $50.0 billion, respectively, outside the US.
Comcast (CMCSA), Fifth Third Bank, Sinclair Broadcast Group, and Bank of America have also planned to pay a one-time bonus of $1,000 to its employees, according to a CNBC report.