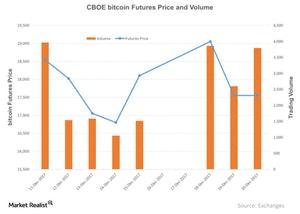 Will Bitcoin Futures Be the Next Big Thing?
Futures launch
Bitcoin futures are now traded on the Chicago Board Options Exchange (or CBOE), a large platform with high trading volumes, particularly from institutional investors. Bitcoin initially traded at a $1,000 premium on the CBOE. As the chart below shows, CBOE bitcoin futures (or GXBT) closed at $17,555 on December 20.
On the CME Index, January futures opened at $20,650, and the contract initially traded higher. The exchange processed 670 contracts, each equivalent to five bitcoin. Bitcoin prices soared over the weekend in anticipation of the derivatives launch. However, later after the launch of futures on the CME (BTC), bitcoin prices traded lower.
The brokerage firms in the US also require traders to maintain extraordinary margins. There weren't many short positions at the initiation of futures contracts.
Article continues below advertisement
Other cryptos
Bitcoin's market cap is currently above $300 billion. Ethereum, litecoin (LTC), and ripple (XRP) have approximate market capitalizations of $80 billion, $18 billion, and $30 billion, respectively. They were priced at $761.6, $366.2, and $0.83, respectively, as of December 20, 2017.
Though bitcoin remains the gold for cryptocurrencies, there was a clear outlier on December 20, bitcoin cash (BCH). With a market capitalization of approximately $70 billion, it ranks third after ethereum (ETH). It was priced at $3,889 on December 20, and was up a whopping 44.3%, while most others experienced a downward price swing. Dash (DASH), another cryptocurrency, has a market cap of almost $12 billion and rose about 35% on the same day.