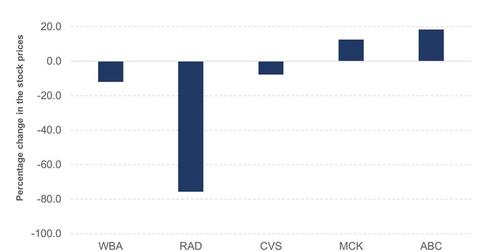 How Has Walgreens' Stock Performed in 2017?
By Sonya Bells

Updated
Walgreens in the stock market
2017 hasn't been a great year for Walgreens Boots Alliance (WBA) in the stock market. The company stood mostly in the red during the year. The slide accelerated in September and October as rumors of Amazon (AMZN) entering the drug retail space spread. Analyst Ana Gupte of Leerink Partners reported in a client note in September that Amazon might enter the drug distribution market within the next two years.
"AMZN is a meaningful competitive threat to existing players in the drug value chain with its best-in-class mail order fulfillment platform and easy-to-use one stop shopping Retail Pharmacy experience," commented Gupte in the client note.
Article continues below advertisement
WBA is currently trading at $72.86, sitting at a YTD (year-to-date) loss of 12%. The company hit its three-year low in October. However, it regained strength and rose 12% over the last two months, thanks to the general optimism surrounding retail after some better-than-expected performance and a strong holiday season.
How have competitors performed?
Discussing dividends
Walgreens is among the S&P Dividend Aristocrats. Dividend aristocrats are companies that have paid regular dividends for over 25 years. Walgreens has paid regular dividends for the last 42 years, notwithstanding recessions.
The company's stock currently offers a one-year forward dividend yield of 2.2%. In contrast, dividend aristocrat Walmart (WMT) and Target (TGT), offer dividend yields of 2.1% and 4.1% respectively.
Walgreens also has a $6 billion share repurchase program in place to further boost the shareholder's returns.
Because of its consistent dividend offerings, Walgreens is included in the portfolio holdings of Vanguard Dividend Appreciation ETF (VDC). VDC invests 3.3% in Walgreens.