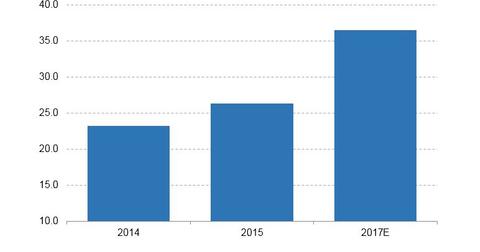 Why LinkedIn Could Help Microsoft Beat Salesforce in the CRM Space
By Ruchi Gupta

Updated
Vital professional networking data
In the CRM (customer relationship management) software market, there is $36.5 billion in revenues to be made this year, based on Gartner's estimates. Microsoft (MSFT) is among the tech giants vying for these billions of dollars (UUP). The company has stepped up its campaign for a larger share of the CRM market since it completed the $26.2 billion acquisition of LinkedIn.
As a professional networking site, LinkedIn holds huge amounts of vital data that Microsoft can tap to strengthen its position in the CRM market. LinkedIn's data could be particularly useful to Microsoft in finding new customers for its CRM product, Dynamics 365.
Article continues below advertisement
$36.5 billion on the table
Cloud-based CRM solutions are seeing rapid adoption, fueled by an increasing number businesses that realize the cost advantages and operational agility of using such solutions. 
According to Gartner, the CRM software market expanded to $26.3 billion in 2015 from $23.2 billion in 2014, an increase of $3.1 billion. Gartner predicts the market could be worth $36.5 billion this year.
Pushing against Salesforce
If Microsoft is going to leverage LinkedIn to strengthen its position in the CRM market, it could be a real bright spot for the company. Although Microsoft is cited among the top four largest vendors of CRM software, it trails rivals Salesforce (CRM) and SAP SE (SAP) on the basis of market share.
Gartner estimates Salesforce's share of the CRM market to be 19.7%, and SAP's is estimated to be 10.2%. Gartner estimates that Oracle (ORCL) has a market share of 7.8%, ahead of Microsoft's market share of 4.3%. In our view, LinkedIn could provide a spark to Microsoft's Dynamics 365 offering.