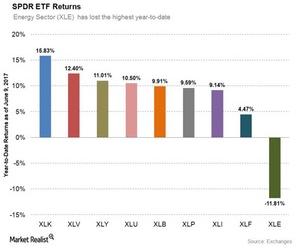 What are the Traditional Drivers of Energy Returns?
By Maxwell Gold

Updated
ETF Securities
Summary
Changes in the global oil supply dynamic may likely continue to weigh on the drivers for oil and energy prices.
The traditional negative relationship between the US Dollar and oil prices has broken down and is currently positive.
Roll and collateral yields may see further prominence.
The expected global economic backdrop remains broadly supportive for the energy sector in coming years. Demand for oil remains robust driven by the further recovery of global growth accompanied with building inflationary pressures, while efforts to reduce the global supply glut are underway. These changes in supply-side fundamentals are beginning to unravel and impact some of the traditional drivers of energy returns including the US dollar (USD), interest rates, and curve structure.
Article continues below advertisement
Market Realist
Can energy sector bounce back?
After gaining around 25.0% in 2016 on the back of improving oil prices (USO) (USL) (OIL), the energy sector, as represented by the Energy Select Sector SPDR ETF (XLE), has been the worst performer since the elections in November 2016.  Natural gas (UNG) (UGAZ) is faring even worse this years falling 30%.  Negative earnings in a few of the energy stocks drove down the sector's performance, falling 4.0% since the elections as of June 9, 2017. Among the sectors of the S&P 500 index, the energy sector has been the only loser with a ~12.0% year-to-date fall, as you can see in the above graph.
Since the elections, President Trump has proposed to ease regulatory restrictions on crude oil and natural gas exploration and production. He is also supportive of increasing the production of fossil fuels such as coal, crude oil, and natural gas and allowing more federal land for crude oil and natural gas drilling. That could mean increased supply.
However, supply and demand are seen to be balancing with global oil demand gaining modest growth. With that, the primary drivers of energy returns are also impacted. In this series, we'll shed light on those fundamental drivers of energy returns and what's weighing on those drivers.