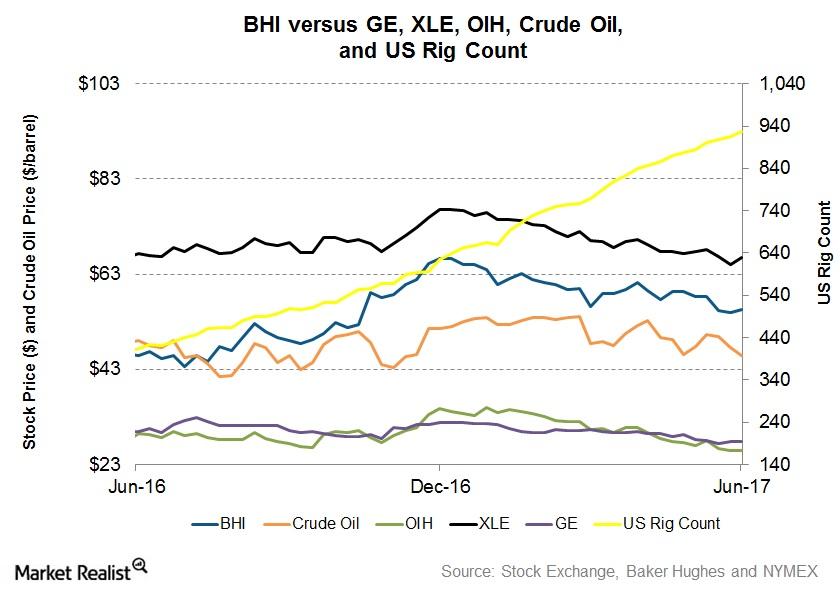 How the Market Reacted to DOJ Approval of GE-BHI Merger
By Alex Chamberlin

Nov. 20 2020, Updated 5:19 p.m. ET
DOJ approval of GE-BHI merger
On June 12, 2017, the Baker Hughes-GE merger came a step closer to reality. On the day, Baker Hughes (BHI) and GE (GE) reached an agreement with the US Department of Justice (or DOJ) that will allow the transaction to be completed provided the companies meet all conditions. The DOJ approval followed the European Commission's (or EC) consent on May 31.
On October 31, 2016, General Electric's Oil & Gas business disclosed it would form a partnership with Baker Hughes dubbed "Baker Hughes, a GE company." Read more on this in Market Realist's GE to Partner with BHI? The Changing Oilfield Services Landscape.
Article continues below advertisement
Shareholder reaction
On June 13, BHI's stock price rose 2% over its previous day's close. GE's stock price reaction was lukewarm with a fall 2% on June 13. In the past year, BHI's stock price has risen 25% compared to a 7% decline in GE's stock price during this period.
BHI's stock price rise is even more remarkable given the 4% fall in the West Texas Intermediate (or WTI) crude oil price in the past year. Read the latest on energy prices in Will Oil Bulls Achieve Escape Velocity? The VanEck Vectors Oil Services ETF (OIH) has generated -9% returns in this period. OIH is an ETF tracking an index of 25 oilfield equipment and services (or OFS) companies.
The US rig count has more than doubled in the past year as US upstream companies have increased drilling and production. This increase has benefited OFS companies like Schlumberger (SLB) and Halliburton (HAL). Read about these companies in Market Realist's What Could Drive Schlumberger's Returns in 2H17 and Beyond? and Will Halliburton's Fundamentals Improve in 2Q17? The Dow Jones Industrial Average (DJIA-INDEX) has risen 20% in the past year.
Article continues below advertisement
What are DOJ's pre-conditions to the deal?
In conjunction with its approval, the DOJ also said that it requires GE and BHI to divest GE's Water & Process Technologies segment in order to proceed with the merger. According to the DOJ, the proposed GE-BHI transaction would lessen competition for refinery chemicals and services in the US, which would lead to higher prices and service quality reduction. In this context, also read Market Realist's Can the BHI-GE Partnership Benefit from Global Growth?
What steps has GE taken so far?
On March 8, GE agreed to divest its Water & Process Technologies business to France-based Suez for $3.4 billion. Baker Hughes has scheduled its shareholder vote on June 30, 2017. The BHI-GE transaction is expected to be completed in mid-2017.
Next, we will discuss BHI's implied volatility and stock price forecast.