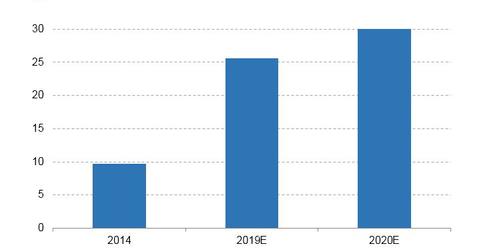 What's behind the Verizon-Corning Deal?
By Ruchi Gupta

Updated
Verizon investing $1.1 billion in new fiber network
As part of its efforts to lead the 5G network rollout race, Verizon (VZ) announced in April that it was buying millions of miles of optical fiber from Corning (GLW). It will buy 12.4 million miles of fiber every year from Corning between 2018 until 2020, implying the company will have acquired 37.2 million miles of fiber by the end of the contract period. Verizon has committed to spend at least $1.1 billion toward the fiber purchase.
Article continues below advertisement
The company intends to use the fiber to upgrade its network as it works toward 5G deployment. A 5G network can support Internet speeds of a gigabit per second or faster. For Verizon, 5G network deployment would not only lead to faster connections but also boost network capacity to handle the growing traffic demand.
Digital video and IoT putting pressure on existing networks
As consumption of video content delivered over the Internet by companies like Netflix (NFLX) and Amazon (AMZN) grows, demand for faster and more reliable Internet access also increases. Initiatives such as the Internet of Things (or IoT), which involves more objects including vehicles being added to the Internet grid, are also putting pressure on existing networks, forcing providers like Verizon to upgrade.
Research firm IDC projected that the IoT-installed base will grow to 25.6 billion devices by 2019 and grow further to 30.0 billion by 2020. The IoT-installed base was estimated at 9.7 billion devices in 2014 as illustrated in the above chart.
Verizon is trying to beat rivals in having the network that is most optimized for growing traffic demand. AT&T (T) also recently agreed to acquire spectrum holder Straight Path for $1.6 billion as part of its network build-out.
Eye on media business
As for Verizon, a stronger Internet backbone would also be a boost to its media strategy. The company is seeking to expand its revenue streams outside its traditional phone carrier footprint into media and advertising.