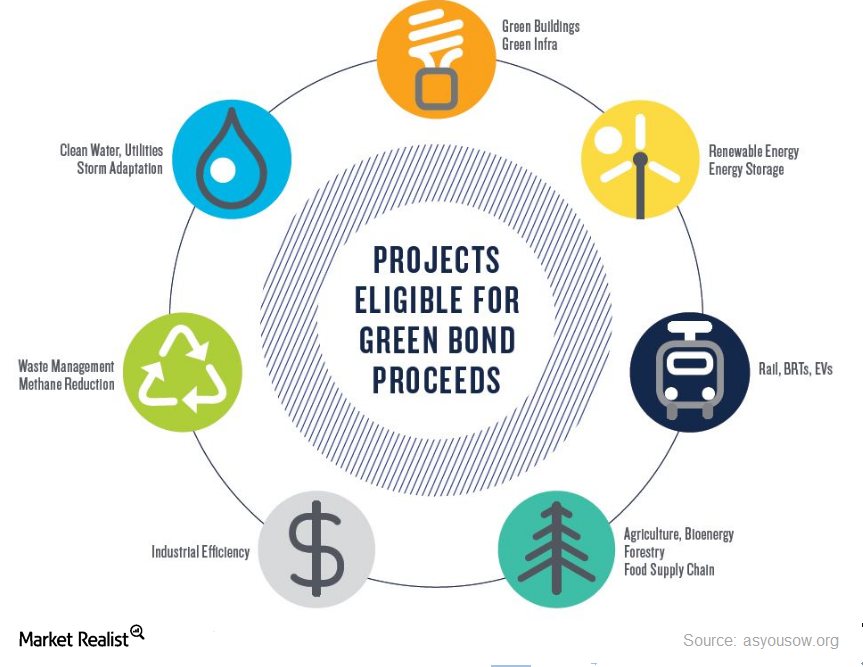 What's the Reason behind the Growth Explosion of Green Bonds?
By VanEck

May. 31 2017, Published 11:42 a.m. ET
VanEck
KEMMERER: This market is certainly an area of growing investor interest. Can you explain how green bonds are evaluated and what standards are used?
LOPEZ: Perhaps the first place to start is to talk about what defines a green bond. A green bond is essentially a bond, like any other conventional bond, except that it has this green bonus which requires funds to be directed towards green projects. A green project can cover a number of different areas or themes, but could includes projects that address energy generation, whether from solar or wind, or energy efficiency buildings, LED lighting, other energy efficiency technologies, and water conservation. Historically, in the early years of the green bond market, there were not any clear guidelines in terms of what really constituted a green bond. But in 2014, market participants came together and developed the Green Bond Principles, which established basic guidelines and standards for assessing new issues in the green bond market. Today, we are moving toward a single standard that can be applied to new green bond issues. And the index that we follow, or that the ETF GRNB follows, is the S&P Green Bond Select Index. And it will include only labeled Green Bonds that have been independently verified and assessed by the CBI, which is the Climate Bond Initiatives. It's a non-profit investor oriented group that reviews the Green Bond issues and make sure that they adhere to the Green Bond principles.
Article continues below advertisement
Market Realist
Projects eligible for CBI certification
The chart below depicts the projects eligible for green bond proceeds.
Repsol has disclosed that it intends to utilize the proceeds for cutting greenhouse gas emissions. However, the drafter of green bond standards, the Climate Bonds Initiative (or CBI), hasn't included the issue in its listings. A lot goes behind the eligibility of a CBI-labeled green bond, as you can see in the chart below.
Exchange listing
At the end of 2016, 72.0% of the $180.0 billion climate-aligned bonds were listed in the stock exchanges. About 44.0% of the more than $694.0 billion unlabeled climate-aligned bonds were listed in the exchanges. Exchanges play a crucial role through better investor decisions, broadening the investor base, and enhancing liquidity of the bonds. Oslo, Stockholm, London, Mexico, Luxembourg, and Borsa Italiana stock exchanges have dedicated green bond segments.
Article continues below advertisement
Growth explosion
The year 2013 witnessed an explosive growth in green bond (GRNB) issuance, mainly driven by the issuance of corporate green bonds in November 2013. Since then, there has been no looking back. The green bonds market recorded an issuance of $81.0 billion in bonds aligned with CBI in 2016. Green bond growth continues to be fueled by commercial banks and corporates, as depicted in the graph below.
Growth drivers
CNBC has reported a total issuance of green bonds, including non-CBI, of $93.4 billion in 2016. Simply put, that's a rise of 120.0%. The demand for green bonds could continue to be triggered by the following:
renewable energy focused on the 2015 Paris Agreement
China's clean energy campaign
the advent of new green market securities
Bond issuance is expected to rise more than 85.0% in 2017. The year 2017 has recorded an issuance worth $42.0 billion to date, and there are projects worth $130.0 billion to be issued in 2017. Investors with assets worth $45.0 trillion in assets under management (or AUM) have made public assurances to climate and responsible investments.
Article continues below advertisement
China
The $36.2 billion green bond market in China (DSUM) (KCNY) accounted for 39.0% of global issuances of green bonds in 2016, mainly driven by commercial banks. According to a report issued by CBI, the lower coupon rate of green bonds compared to other bonds with similar ratings seems to be driving up its issuance. Transportation forms 86.0% of the ChinaBond China Climate-Aligned Bond Index with the China Railway Group being the largest issuer.
Moody's expects the global green bond issuance to breach the $200.0 billion mark in 2017.
According to the Paris Agreement, China and the United States (SPY) (XLF), the largest and second-largest emitters of greenhouse gases, have agreed to reduce their emissions by 60.0%–65.0% by 2030 and 26.0%–28.0% by 2025, respectively. Europe and Canada (EWC) (FCAN) have agreed to reduce their emissions by 40.0% and 30.0%, respectively, by 2030.