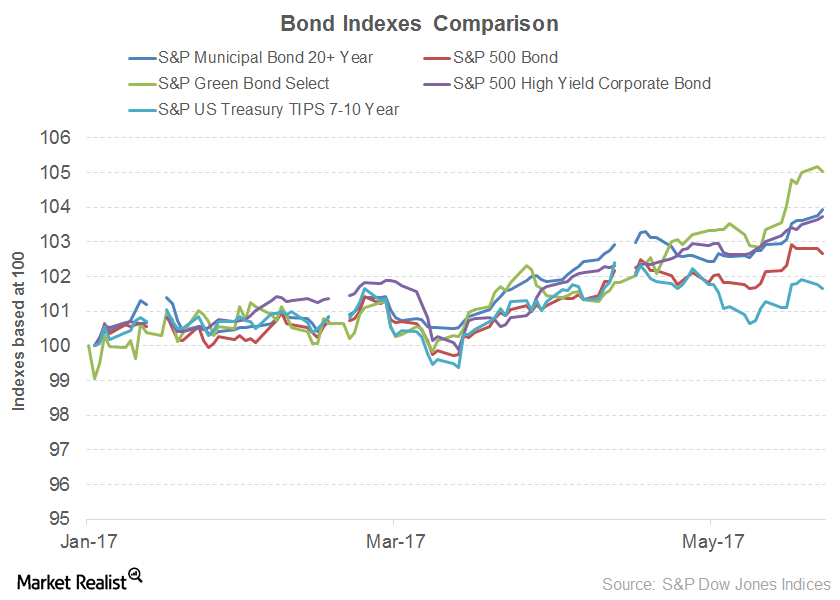 What Does the Green Bond Index Look Like?
By VanEck

Oct. 8 2020, Updated 4:55 p.m. ET
VanEck
KEMMERER: That is very interesting.  For any advisor or investor that wants to incorporate some kind of green strategy along these lines, or specifically this new Green Bond ETF, how would you advise them to fit it into a larger investment portfolio?
LOPEZ: The most direct reason to invest in GRNB is if you want to green your portfolio. To date there really have not been many good options for regular investors to access fixed income ESG strategies or sustainable strategies. VanEck Vectors Green Bond ETF is a very direct way to green your portfolio. You can also consider it from just a fixed income standpoint, given that GRNB invests in bonds. For all intents and purposes, and all else being equal, you can get similar yield and maturity with the added green benefit. The ETF's underlying index [the S&P Green Bond Select Index, SPGRNSLT] provides exposure to a global portfolio of green bonds. It is diversified across different currencies, different countries, different sectors, and it is primarily investment grade. We believe that it fits very well in the global aggregate bond allocation an investor might have. Alternatively, if you are more U.S. oriented investor GRNB may also offer some diversification benefits. But the main thing to take away is that adding green bonds to your portfolio doesn't mean you have to sacrifice risk and return. We like to say that you can add green bonds and succeed in having income with impact.
KEMMERER: I think this a great place to end. Congratulations again, and enjoy ringing the closing bell.
Article continues below advertisement
Market Realist
Index performance
The S&P 500 Green Bond Select Index has beaten the S&P 500 Bond Index, the S&P 500 High Yield Corporate Bond Index, the S&P Municipal Bond 20+ Year Index, and the S&P US Treasury TIPS 7-10 Year Index in their year-to-date returns.
Index exposure
The VanEck Vectors Green Bond ETF (GRNB) has the highest currency exposure in euros (FXE) (EUO), followed by the US dollar (UUP) (USDU). France leads in terms of country weighting followed by supranational. Government forms the highest sector weighting followed by financials and utilities (XLU) (FXU).
The S&P 500 financial (XLF) (KRE) has generated the highest returns in the last year, driven by the election of Donald Trump. Almost 82.0% of GRNB is comprised of investment-grade bonds (LQD) (VCSH).
Other green bond indexes include the following:
Solactive Green Bond Index Series
S&P Dow Jones Green Bond Index
Barclays MSCI Green Bond Index
Bank of America Merrill Lynch Green Bond Index
ChinaBond China Green Bond Index Series
ChinaBond China Climate-Aligned Bond Index
CUFE-CNI Green Bond Index Series
Article continues below advertisement
 Future prospects
Apprehensions over climate change, an emphasis on global pension funds over the integration of ESG (environmental, social, and governance) in their investments, and new markets such as China will continue to fuel demand for this type of bond. The People's Bank of China (or PBoC) has projected an annual investment in the range of $320.0 billion–$640.0 billion to counteract the hazards associated with environmental and climate change.
Bangladesh, Luxembourg, Morocco, Nigeria, and Sweden are among the budding issuers of green bonds. Twenty-one emerging countries are being expected to have an aggregate NDC (nationally decided contribution) investment of $23.0 trillion between 2016 and 2030 toward the mitigation of climate change hazards. That includes investments of $2.1 trillion, $1.3 trillion, and $104.0 billion by India, Brazil (EWZ) (BRZU), and Nigeria (NGE) (AFK), respectively. Preferential lending interests, tax incentives, credit enhancement instruments, cornerstone funds, and preferential risk weightings adopted by various countries toward green bonds will help trigger the growth rate of this new asset class.