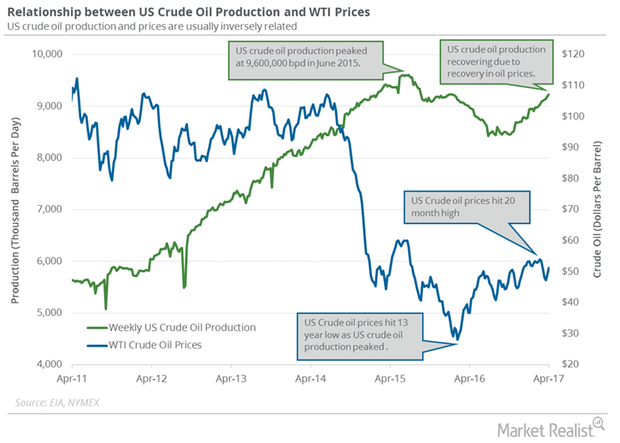 Crude Oil Futures Could Breach Key Resistance of $55 per Barrel
By Gordon Kristopher

Nov. 20 2020, Updated 3:45 p.m. ET
Crude oil prices  
WTI (West Texas Intermediate) crude oil (ERX) (ERY) (XES) futures contracts for May delivery rose 0.1% to $52.4 per barrel in electronic trade at 4:45 AM EST on April 19, 2017.
US crude oil prices are trading near a one-month high. Likewise, broader markets like the S&P 500 (SPY) (SPX-INDEX) and Dow Jones are near all-time highs. Bullish momentum in the US stock market could support oil demand and oil prices. The US is the largest crude oil consumer. For more on crude oil prices, read Part 1 of this series.
Article continues below advertisement
Bearish drivers 
US crude oil futures have fallen ~7% year-to-date due to the following factors:
near-record US crude oil inventories—read Part 3 to learn more
US crude oil production hit a 15-month high
near-record OECD crude oil inventoriesglobal oil inventories
US crude oil rig count hit April 2015 high
expectation of a strong US dollar (UUP) in 2017
Cushing crude oil inventories hit a new all-time high
All of these bearish drivers could pressure crude oil prices. However, the bullish drivers discussed in Part 1 of this series pushed crude oil prices above their key moving averages. US crude oil prices are above their 20-day, 50-day, 100-day, and 200-day moving averages of $51.4, $51.1, $52.1, and $49.9 per barrel as of April 19, 2017. It suggests more bullish momentum for oil prices. Prices could even breach key resistances of $54 and $55 per barrel in the short term if US crude oil inventories and OECD crude oil inventoriesglobal oil inventories start falling.
Higher crude oil (FXN) (FENY) (IXC) (XOP) prices have a positive impact on oil and gas exploration and production companies like Warren Resources (WRES), Noble Energy (NBL), ExxonMobil (XOM), and QEP Resources (QEP).
Next, we'll look at the API's estimates for US crude oil inventories.