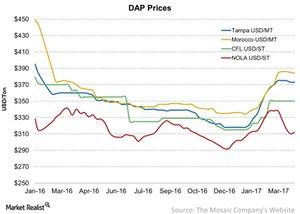 Phosphate Fertilizer Prices Rose for the Week Ending March 31
By Adam Jones

Updated
Phosphate fertilizers
The week ending March 31, 2017, was mostly mixed for DAP (diammonium phosphate). Phosphorus fertilizers (MOO) are becoming more important as the awareness of balanced NPK (nitrogen, phosphorus, and potassium) fertilizer application grows. The most common phosphorus fertilizers are ammonium phosphates such as DAP and MAP (monoammonium phosphate).
Article continues below advertisement
Weekly movements
For the week ending March 31, average DAP prices at the above four locations rose by an average of 10 basis points. Prices in the NOLA (New Orleans) region rose by 65 basis points to $312 per short ton, or $238 per metric ton, week-over-week.
DAP prices in Tampa Bay remained flat week-over-week at $373 per metric ton. DAP prices in Central Florida also stayed flat at $350 per short ton, or $318 per metric ton, week-over-week.
Average DAP prices at the above three locations fell 1.4% YoY (year-over-year). Mosaic (MOS) is one of the largest phosphate producers in North America. For an in-depth overview, read An In-Depth Assessment of Mining Company Mosaic.
Rising prices are positive for companies such as PotashCorp (POT), Agrium (AGU), and Israel Chemicals (ICL), which also produce and distribute phosphate fertilizers.
Morocco has the largest phosphate rock reserves. Its average prices fell slightly by 26 basis points week-over-week to $384 per metric ton. Morocco's prices have risen 5.0% YoY.
Input costs
Ammonia, natural gas, and phosphate rock are the key feedstock materials used for producing DAP and MAP. Their prices impact phosphate fertilizer producers.
In the week ending March 31, phosphate rock prices in Morocco were flat at $94 per metric ton week-over-week. However, they were ~18% lower YoY. In the next part, we'll look at MAP prices in more detail.