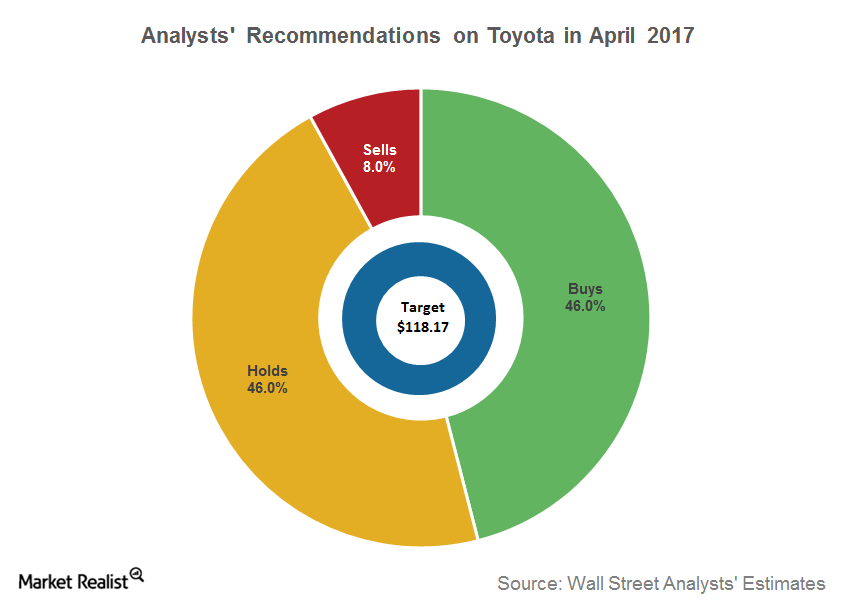 Do Analysts Expect Toyota to Recover in April 2017?
Toyota Motor
Toyota Motor Corporation (TM) is a well-known name in the global auto industry. Despite being founded much later than mainstream US automakers (IYK) such as General Motors (GM) and Ford (F), Toyota became the world's largest automaker by volume in 2008. Interestingly, Toyota's 2016 US sales were also higher than Fiat Chrysler's (FCAU) US sales.
Article continues below advertisement
Recommendations for Toyota
According to the latest data compiled by Reuters, out of 24 analysts covering Toyota, 46% gave the stock a "buy" recommendation. Another 46% gave a "hold" recommendation, while the remaining 8% of analysts gave a "sell" recommendation.
In 1Q17, Toyota underperformed its peers on Wall Street and fell by about 7.3%. As of April 13, the company's stock has lost about 4.1% on a MTD (month-to-date) basis. Toyota's weakening US sales could be the primary reason behind these declines.
In the first quarter, the company's US sales fell about 6.4% to 532,611 vehicle units from 569,080 units sold in the first quarter last year. Despite increased consumer bias towards heavyweight vehicles in the US, no major rise in Toyota's truck sales was reported in 1Q17. For the quarter, its truck sales rose by just 1.9% while its car sales plunged by 15.1% on a YoY (year-over-year) basis.
Toyota's consensus target
As of April 13, 2017, analysts' 12-month consensus target price for Toyota on NYSE was $118.17, which reflects an upside potential of about 13.4% from its market price of $104.18.
This consensus target price suggests that Toyota might recover on Wall Street in 2017. However, we believe that the company needs to focus on truck sales to regain investor confidence. Note that heavyweight vehicles such as trucks and UVs (utility vehicle) have higher profit margins than those of small cars.
Next, we'll take a look at analysts' recommendations for Ferrari's stock in April and also explore estimates for its 1Q17 earnings.