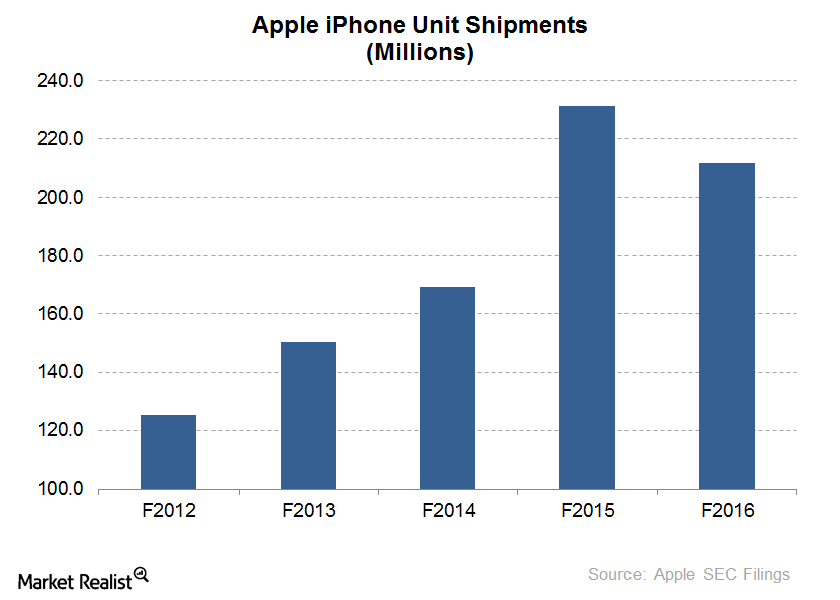 Will Apple's iPhone 8 Alienate Emerging Market Consumers?
By Ruchi Gupta

Dec. 4 2020, Updated 10:53 a.m. ET
Apple keen to boost iPhone shipments
Apple (AAPL) has recently shown that it's willing to do everything possible to popularize its brand in emerging markets. Apple needs no introduction in the developing world, but its iPhones are way out of reach for many consumers in those markets.
Making iPhones more affordable could encourage more sales in India and other emerging markets that Apple is eyeing for expansion. Apple shipped 211.9 million iPhones in 2016, fewer than the 231.2 million it shipped in the previous year.
Article continues below advertisement
A $1,000 iPhone would be a tough sell in many emerging markets
If new rumors about the next iPhone are anything to go by, Apple could further alienate many emerging market consumers eager to get their hands new iPhones. According to a report by Fast Company, the upcoming iPhone will mark ten years in the Smartphone business for Apple, and it could be priced at more than $1,000. This price point would put the device out of reach for many consumers in the developing world, yet Apple needs them to reinforce its positive performance.
However, there appears to be a remedy. Other supply chain reports have hinted that Apple could unveil two other iPhone models available at the standard price of ~$650.
Apple's idea of manufacturing iPhones in India is believed to be aimed at making the handset more affordable in the country.
What's the name of Apple's new iPhone?
The suspected name of Apple's high-end iPhone set for release this year has continued to change. While some believe it will be called the iPhone 8, others have pointed out that it could be called the iPhone 10 or the iPhone X to aptly capture Apple's ten-year milestone.
Regardless of its name, it remains to be seen how the device will help Apple push back against Microsoft (MSFT), Samsung (SSNLF), Alphabet (GOOGL), Nokia (NOK), Xiaomi, Huawei, and its other competitors.