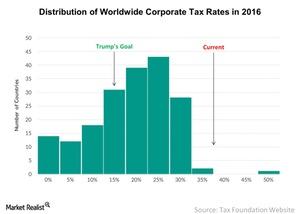 Are President Trump's Tax Cut Ambitions in Trouble?
By Adam Jones

Nov. 20 2020, Updated 3:35 p.m. ET
Growth agenda at peril
With Republicans failing to repeal the Affordable Care Act last week, the volatility index (VIX) rose ~19.4%. The index is also informally known as the "fear index" It usually rises when risk perception in the market is heightened. Last week, the risk perception towards President Trump's growth agenda might have risen.
Article continues below advertisement
Tax rate cuts
According to Tax Foundation, the US is among the few countries with a corporate tax rate higher than 35%. One of President Trump's election promises was to lower overall tax rates for corporates to 15%. Lower tax rates would make it attractive for companies to retain or set up businesses in the US.
A lower tax rate has a ripple effect on the economy, which might translate into growth for companies and the economy. A lower tax rate yields higher earnings for companies. A lower tax rate for individuals means higher disposable income in US consumers' hands. Higher disposable income might translate into higher spending, which would lead to growth in the consumer sector.
Companies that want to capitalize on the growth could invest in increasing capacities, which could translate into earnings growth for investors.
Roadblock
Everything was good until last week when the President Trump's work to repeal Obamacare hit a roadblock. As a result, some of President Trump's other ambitious promises are in uncertain territory. Investors in agribusiness companies (SOIL) such as FMC Corporation (FMC), Monsanto (MON), CF Industries (CF), and Deere & Co. (DE) might see a negative impact if the Trump's Administration doesn't lower tax rates.
A tax cut would help fertilizer companies that are struggling amid the low commodity price environment. Read An In-Depth Analysis of CF Industries and Its 2017 Outlook to learn more.