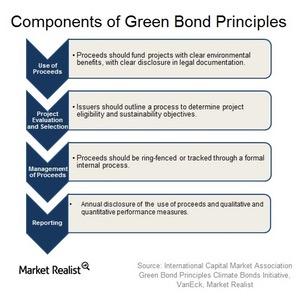 A Look at What Promoted Green Bond Market Growth
By VanEck

Mar. 31 2017, Updated 3:39 p.m. ET
VanEck
Market standards to promote growth
In addition to government actions to address climate change and sustainable finance, another reason behind the rapid growth of the green bond market has been progress towards establishing a commonly accepted definition of what a green bond is, and towards developing standards against which green bonds can be evaluated. In the first few years of the green bond market's existence, the self-labeled nature of the market led to concerns that issuers could apply proceeds of "green" bonds towards nongreen purposes, sometimes referred to as "greenwashing." This "wild west" market environment led to the establishment of the Green Bond Principles in 2014 by the International Capital Market Association. Although voluntary, the Green Bond Principles set out four core principles that have gained broad market acceptance by bond underwriters, issuers, and investors. In particular having a clearly defined use of proceeds has become the de facto definition of green bonds and provides a level of transparency needed to use a green label and confidence to investors that they are financing green projects. Further, they have become the foundation for policymakers and market participants seeking to establish detailed standards.
Article continues below advertisement
Multiple frameworks have been developed globally by governments, environmental groups, consulting firms, and research providers to identify the types of projects considered "green." Issuers have increasingly sought opinions from independent external reviewers to verify that their green projects are, in fact, green and in line with one of these multiple classification systems.
Market Realist
What's helping the green bond market?
The demand for green bonds (GRNB) is rising, with expectations of the issuance level reaching ~$150.0 billion during 2017. Issuers are assuring that investors are indeed investing in green projects. However, self-labeling of green bonds hasn't been enough assurance for investors.
Many issuers used the proceeds for non-green projects, which led to doubts and mistrust. That resulted in the International Capital Market Association creating four green bond principles, as you can see in the above chart. Below is a summary of those principles:
use of proceeds – The issuer should be precise about how the proceeds will be used and the green projects categories in which it will invest. The issuer should also provide a detailed list of the project's environmental benefits.
project evaluation and selection – The issuer should outline all the individual investments it plans to undertake with the use of green bond proceeds.
management of proceeds – The issuer should conduct a formal internal process to track and manage green bond proceeds.
reporting – The issuer should annually disclose the investments it makes with issuance proceeds. It should also specify the realized environmental benefits.
Despite the above four green bond principles, the risks of investing in green bonds include lack of transparency and weak reporting, since these principles are voluntary. However, with the growth of the green bond market, transparency is becoming more important. We'll look at that in the next part of this series.