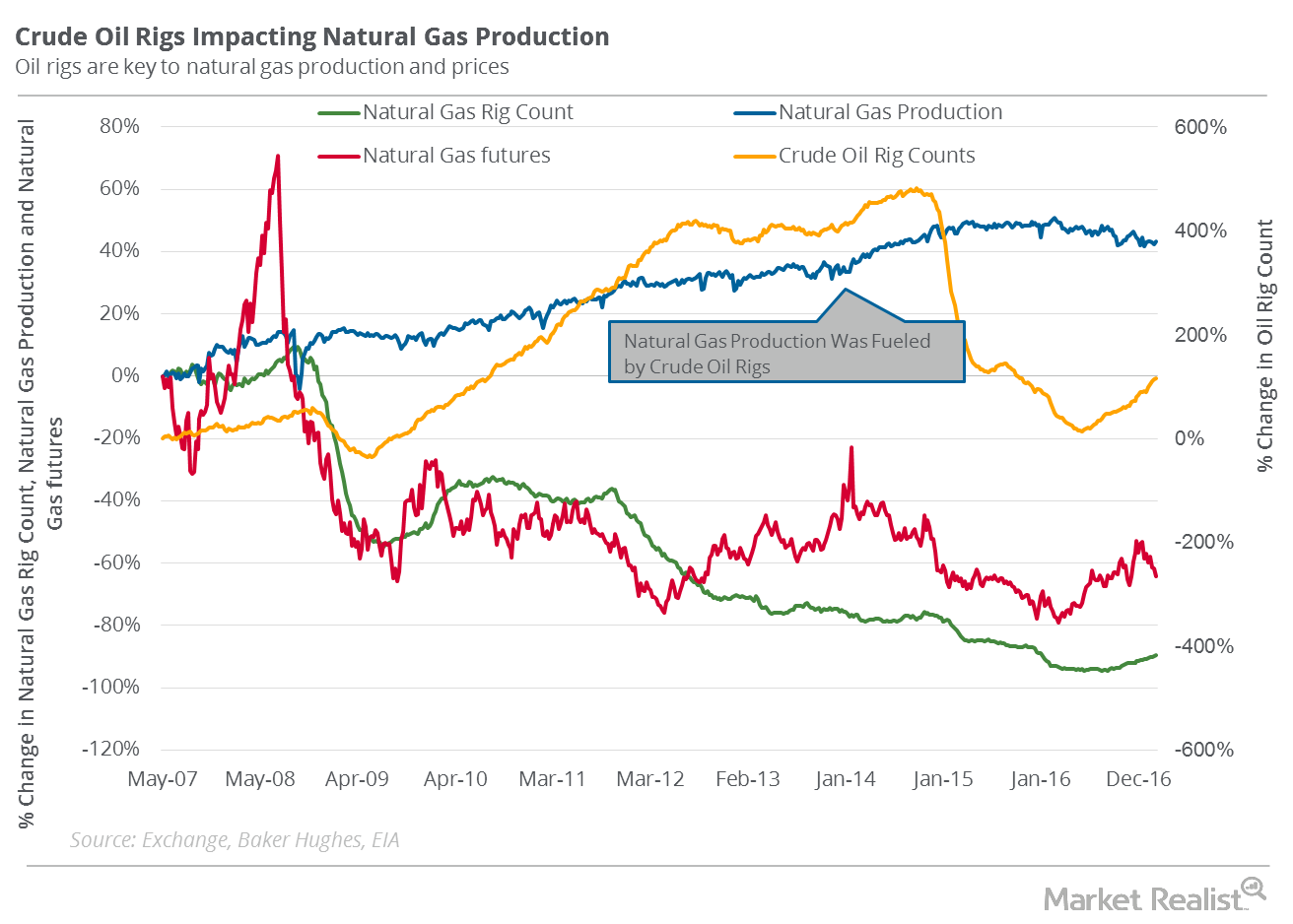 Natural Gas Production Could Rise in 2017
Natural gas rigs
The natural gas rig count for the week ending on February 24, 2017, was 90.6% lower than its peak in 2008. The rig count reached a historic high of 1,606 in 2008. On March 3, 2017, Baker Hughes (BHI) will release its natural gas rig count for the week ending March 3, 2017.
Article continues below advertisement
Crude oil rigs and natural gas production
The oil rig count, not just the natural gas rig count, will be important to watch alongside natural gas prices this week. It could be a bearish catalyst for natural gas. Over the past ten years, natural gas production moved more in tandem with the crude oil rig count than with the natural gas rig count, as you can see in the above chart.
Despite the fall in the number of natural gas rigs since August 2008, natural gas production continued to rise. Apart from natural gas–targeted wells, natural gas is also often an associated product of crude oil (USO) (OIIL) (UWTI) (USL) extraction.
Rising crude oil prices after the subprime mortgage crisis kept the number of oil rigs rising until June 2014. With increasing crude oil extraction, associated natural gas production also kept rising, despite falling prices.
Since June 3, 2016, crude oil rigs have risen by 277 as of the week ending February 24, 2017—a rise of 90.5% from the bottom. On February 24, the US crude oil rig count was 602—five more than the previous week. WTI crude oil prices above $50 per barrel and OPEC's supply cuts could lead to higher US oil supplies in domestic and foreign markets. It could cause a large rise in associated natural gas production.
Article continues below advertisement
Rig efficiency 
Increasing rig efficiency also helped US natural gas companies produce more natural gas with fewer rigs. In February 2017, the EIA estimated that new-well gas production per rig was 3,500 thousand cubic feet per day—about 28.7% more than in February 2016. Today, rising rigs could increase US natural gas supplies more than the same number of rigs would have in the past.
Natural gas prices and ETFs
If the number of oil and gas rigs keeps rising, it could boost natural gas production and pressure prices. Given the impact on production and energy prices, rig counts impact ETFs such as the ProShares Ultra Oil & Gas (DIG), the PowerShares DWA Energy Momentum ETF (PXI), the Vanguard Energy ETF (VDE), the Energy Select Sector SPDR ETF (XLE), the iShares US Energy (IYE), and the Fidelity MSCI Energy ETF (FENY).
In the next part of this series, we'll take a look at natural gas inventories.