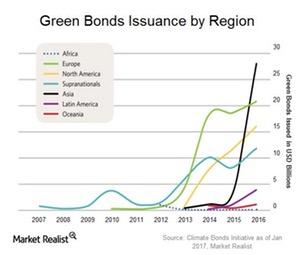 How the Green Bond Market Is Diversifying
By VanEck

Mar. 31 2017, Updated 3:39 p.m. ET
VanEck
The green bond market today
The first green bond was issued in 2007 by the European Investment Bank in response to an institutional investor's request to finance environmentally friendly projects, which was followed shortly after by a green bond issued by the World Bank. In fact, in the first five years of the market's existence, the green bond market consisted almost entirely of supranational. The high credit quality of these issuers, as well as the ability to issue bonds large enough in size to attract institutional interest, has resulted in supranational issuers having a dominant role in the green bond market. This continues today. In addition, green bond issuance programs developed by these entities include clearly defined projects and governance requirements.
Article continues below advertisement
Corporate issuers such as Bank of America and the Electricite de France (EDF) began entering the market in 2013 with benchmark-sized deals. These brought the green bond market into its current phase of growth. Following the adoption of the Green Bond Principles in 2014, which provided process and reporting guidelines for the use of proceeds of green bonds, issuance has surged. Since then, other household name corporate issuers such as Apple have increasingly become a larger part of the green bond market, and high yield corporate issuers have also had successful issuances, bringing increased diversity into the market.
In late 2016, Poland became the first sovereign issuer to bring a green bond to market, which was issued to finance various green projects within the country. The bond was three times oversubscribed (Source: Climate Bonds Initiative: Poland wins race to issue first green sovereign bond. A new era for Polish climate policy? December 15, 2016). Shortly after, in January 2017, France came to the market with a €7 billion green bond issue, which was notable not only for its size but also its 22-year maturity, the longest maturity green bond issued to date (Source: Reuters: France enters green bond market with 22-year maturity: AFT. January 23, 2017).
Article continues below advertisement
Increased issuance by sovereign and municipal issuers, as well as a potential increase in securitization,  are helping to bring added diversity to the green bond market, as well as increased liquidity. Further, issuers are exploring innovative financing structures such as guarantees and other credit enhancement mechanisms that may open up debt capital markets for issuers who otherwise may not have access or may not be able to afford green bond issuance. This is particularly important for issuers in emerging markets, where significant green investment is needed but to date, little financing has been made available.
Market Realist
Green bond diversification
The green bond universe has expanded in the last ten years. It now consists of more than 600 bonds from 24 countries in 23 currencies. The diversified issuers of these bonds include government-issued bonds and non-government-issued bonds such as banks, property companies, conglomerates, automakers, food producers, and clean-technology companies. Development banks accounted for 45.0% of the green bond issuance in 2015, according to data from the Bank of America (BAC).
Since the introduction of the first green bond in 2007, the green bond market has diversified and expanded. Various emerging markets (VWO) (EMB) such as China and India are considering the green financing option. According to Climate Bonds Initiative data, the People's Bank of China published green bond guidelines and definitions and issued $36.2 billion worth of green bonds in 2016. The Securities and Exchange Board of India also released a draft of green bond guidelines.
Expectations are that there will be further mainstreaming of green bond financing in 2017 from the European Union and the G20 (Group of Twenty).