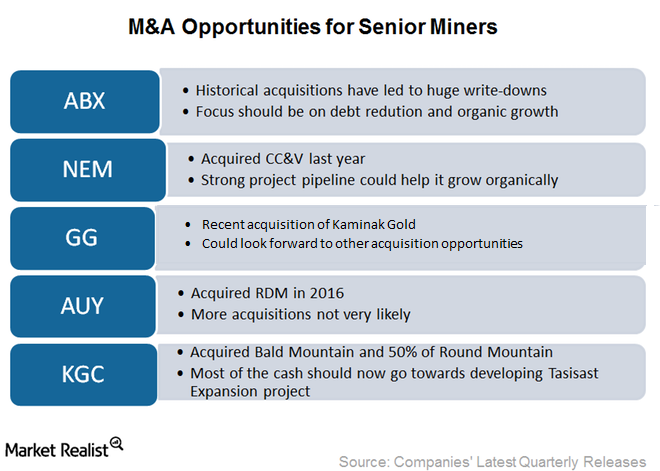 What Could the Chilean Joint Venture Mean for Goldcorp?
By Anuradha Garg

Mar. 30 2017, Updated 3:35 p.m. ET
Need for jointly developing resources
After peaking in 2011, gold prices fell four consecutive years. That led gold miners to cut back on sustaining and growth capital, lower their exploration spending, and divest their assets. Years of underinvestment negatively impacted gold miners' (JNUG) (GDXJ) production profiles. Most of them may have flat or declining production pipelines for the next few years.
There have been many examples of large projects getting stalled due to cost overruns and the environmental impact. A joint approach among miners to develop these projects could help them come online in an efficient and timely manner.
Article continues below advertisement
About Cerro Casale
Cerro Casale is one of the world's largest undeveloped gold and copper deposits. It's located in the Atacama Region of northern Chile. It has proven and probable gold reserves of 23.2 million ounces and 58.7 million ounces of silver reserves. It also contains 5.8 million pounds of copper reserves. The Caspiche gold-copper asset has resources measuring 23.0 million ounces.
The development of Cerro Casale is still at least five years away. In the meantime, Goldcorp and Barrick Gold (ABX) will conduct several studies to determine the economic feasibility of developing the project. As reported in a Barron's blog, GMP Securities' analyst Steven Butler said, "These two transactions would increase Goldcorp's gold reserve and M&I (incl. reserves) base by 28% (11.6/41.8 Moz) and 29% (24.8/85.2 Moz) respectively."
Bringing together efficiencies
Bringing together Cerro Casale, Kinross Gold's (KGC) Quebrada Seca, and Exeter Resource's (XRA) Caspiche project will help Goldcorp (GG) share its infrastructure and develop the project without infrastructure duplication. Goldcorp's CEO David Garofalo said, "Duplicating infrastructure has been significantly value destructive in the past in the space."
Garofalo added, "We need to collaborate in districts, we can't be doing what we did in Sudbury, or Nevada or the Abitibi, where we're cheek-by-jowl beside each other building infrastructure on the same deposits, so I think those are some lessons learned."
This arrangement is similar to the one Goldcorp adopted to develop its NuevaUnion project in Chile with Teck Resources (TCK). For more on this transaction, please read Does Project Corridor Joint Venture Make Strategic Sense?