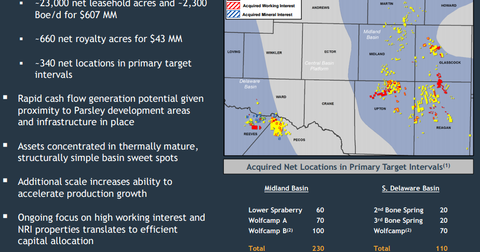 PE Was One of the First to Add More Permian Assets in 2017
By Keisha Bandz

Updated
Parsley Energy: one of the first companies to announce Permian acquisitions this year
On January 10, 2017, Parsley Energy (PE) announced a $607 million acquisition in the Midland and Delaware basins of the Permian Basin. The acquisition added 23,000 net acres to Parsley's Permian acreage. Estimated current production from the acquired acreage was 2,300 barrels per day. The transaction is expected to close at the end of this month.
Following the transaction, PE expects oil volumes to make up 68%–73% of its total production compared to 2016's estimated oil volumes of 65%–70%.
Article continues below advertisement
PE's management commented in a news release, "We expect to generate significant production momentum through the end of 2017. This production growth should be characterized by robust returns and expanding margins as a function of meaningfully higher average lateral lengths, net revenue interest, and oil as a percent of total production, accompanied by lower unit costs and development costs per lateral foot."
Other Permian acquisitions in January 2017
On January 17, 2017, ExxonMobil (XOM), a component of the Dow Jones Industrial Average (DIA) (DJIA-INDEX), announced that it will be acquiring Bass family companies for a staggering $6.6 billion. A day before, on January 16, 2017, Noble Energy (NBL) announced that it would be acquiring Clayton Williams Energy (CWEI) for $2.7 billion. The deal will add 71,000 net acres to NBL's existing acreage in the core of the Southern Delaware Basin. On January 12, 2017, WPX Energy (WPX), a component of the S&P 400 SPDR ETF (MDY) (MID-INDEX), announced that it would be acquiring ~18,000 net acres in the Delaware Basin from Panther Energy Company and Carrier Energy Partners. WPX will pay $775 million for the transaction.
To know more about key Permian deals in 2016 and 2017, read Key Permian Basin Deals in 2016 and 2017.
To better understand the reason behind the increased interest in the Permian Basin, read Why Oil and Gas Producers Are Flocking to the Permian.