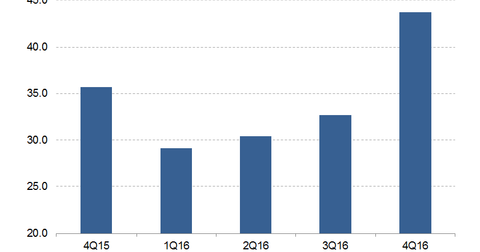 Could Abandoning Souq.com Cost Amazon?
By Ruchi Gupta

Updated
Deal would have valued Souq at $1 billion
Souq.com has been described as the Amazon.com of the Middle East, and Amazon (AMZN) was supposed to team up with Flipkart of India to acquire it. However, according to a Bloomberg report, Amazon and Flipkart walked away from acquisition talks last month.
The deal, which would have valued Souq at $1 billion, fell apart over price disagreement, according to the report. Souq became the Middle East's highest-valued Internet company following a $275 million investment in February 2016.
Article continues below advertisement
As Amazon pursues more growth, especially that of its Prime loyalty program and Fulfillment by Amazon deals, acquiring Souq would have boosted its efforts in the Middle East. Prime members spend two times more than non-members on Amazon retail purchases, meaning that Prime is a crucial driver of Amazon's e-commerce sales. Amazon reported revenue of $43.7 billion in 4Q16, up from $35.8 billion the year prior.
Souq backers
Souq carries more than 1.5 million items on its platform and serves shoppers in Middle Eastern countries such as Saudi Arabia and the United Arab Emirates. This year, its sales are expected to hit $1 billion. The company's backers include Tiger Global Management and Naspers of South Africa.
Will Alibaba swoop in on Souq?
The downside of Amazon walking away from Souq buyout talks is that it could allow its rivals to seize the asset and potentially challenge its Middle Eastern expansion. Alibaba (BABA), JD.com (JD), eBay (EBAY), and WalMart (WMT) are all pursuing global expansion and Souq seems to be a great fit for their ambitions.