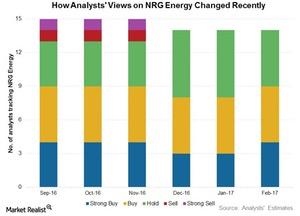 Do Analysts See Upside in NRG Energy?
Price targets
According to Wall Street analysts, NRG Energy's (NRG) price target for the next year is $17.68. It implies an estimated gain of more than 6% in one year from its current price of $16.70.
Of the 14 analysts tracking NRG Energy, five recommend it as a "buy," four recommend it as a "strong buy," and five recommend it as a "hold." Interestingly, none of the analysts have a "sell" recommendation on NRG Energy as of February 7, 2017.
Calpine (CPN) has a one-year median price target of $15.30—compared to its market price of $11.12. It implies an upside of 38%. For Dynegy (DYN), Wall Street analysts have a median price target of $13.40. It implies a gain of 40% in one year from its current market price of $9.10.
The volatile earnings of these merchant power players largely influence their stock movements. Lower wholesale power prices, flat electricity growth, and increasing generation capacities at competitive prices have made the situation bleak for merchant power companies.
To find out which utilities might offer attractive upsides in 2017, read A Look at S&P 500 Utilities with Attractive Upsides in 2017.
Article continues below advertisement