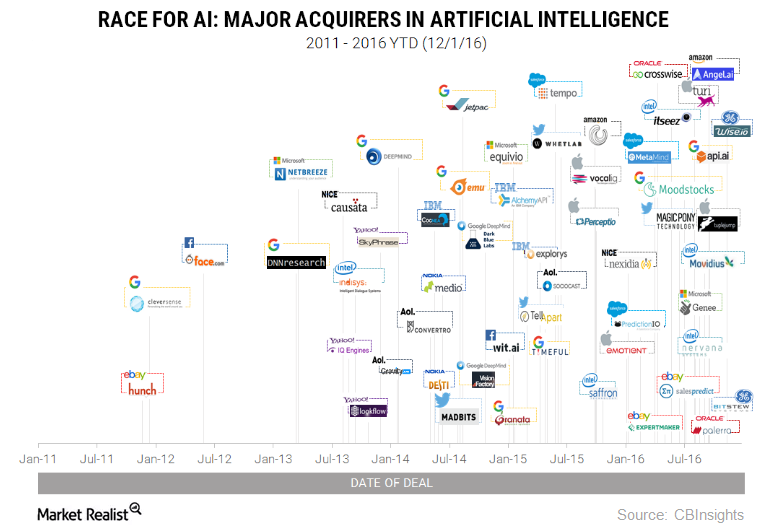 Is Microsoft Trying to Compete with Google in the AI Space?
By Anne Shields

Nov. 20 2020, Updated 4:20 p.m. ET
Microsoft and Google target Canada to fuel their AI aspirations
Earlier in the series, we discussed Microsoft's (MSFT) recent acquisition of Maluuba. Microsoft said that by 2019, it aims to double Maluuba's Montreal office size.
Microsoft isn't the only tech company that wants to enhance its presence in Canada (EWC), especially Montreal. In November 2016, Google (GOOG) announced its plan to open a center for deep learning in Montreal.
Article continues below advertisement
Race for AI among tech players
Since 2011, nearly 140 private companies related to AI technologies have been acquired with more than 40 acquisitions taking place in 2016 alone, according to CB Insights.
Oracle (ORCL), Yahoo, Intel (INTC), Apple (AAPL), and Salesforce (CRM) are also competing for the acquisition of AI companies. IBM (IBM) has invested billions of dollars in machine learning and AI through partnerships and acquisitions to develop its Watson platform. IBM had the most AI patents among peers in 2015.
However, it's Alphabet (GOOG) that topped the acquirer list with 11 acquisitions in the AI space in 2016. AI is considered "one of six Innovation Accelerators." Moreover, its significant role in the next computing cycle is the key reason behind tech players' increased M&A activity in this space.
Morgan Stanley views data as the "holy grail of AI." LinkedIn's (LNKD) acquisition provided Microsoft with access to large data sets, which are essential to the development of AI. Looking at Microsoft's acquisition spree in 2016 and 2017, to date, we can expect several new additions to Microsoft's acquisition portfolio, especially with a focus on AI and ML.