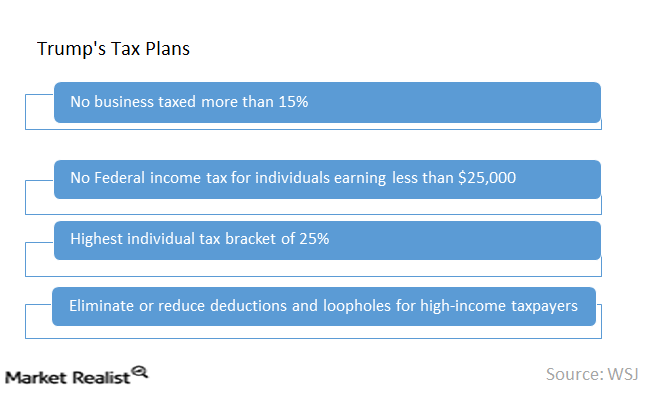 How Trump's Tax Reforms Could Affect the Economy
By Sanmit Amin

Dec. 8 2016, Updated 12:05 p.m. ET
Direxion
Tax Reform and Regulatory Easing
Tax reform is centerpiece of Trump's economic agenda. His tax plan has some synergies with ideas released by House Republicans earlier this year, so many expect this to be one of the early areas of opportunity for him.
We can also expect to see a shift in the regulatory environment. The President-elect has also proposed a moratorium on new regulation, and may seek to reverse some of Obama's biggest regulatory initiatives. Congressional Republicans are also likely to place a heavier emphasis on cost-benefit analysis around the economic impact of any proposed regulations.
Article continues below advertisement
Market Realist
How Trump's tax reforms could affect the economy
Under Donald Trump's tax plan, the lowest earning Americans are likely to be the biggest winners. Trump has proposed a reduction in the number of tax brackets from seven to three. According to Trump's website, the following are the proposed brackets for married and joint filers:
Less than $75,000: 12%
More than $75,000 but less than $225,000: 25%
More than $225,000: 33%
Brackets for single filers are half these amounts.
Trump has also pledged to lower the corporate tax rate to 15%, one of the lowest tax rates among developed economies (DZK) (VGK).
Trump is also proposing a one-time tax on overseas profits. Companies may have to pay a 10% tax on overseas profits, meaning that much of their funds would return to the United States instead of remaining offshore to stay free from US tax law.
This, along with Trump's proposed 15% corporate tax, means that corporations will have more money for expansions, creating more jobs. This development should support US stocks (SPXL).
However, lower taxes coupled with Trump's proposed aggressive spending on the economy is likely to stretch the already high government debt.