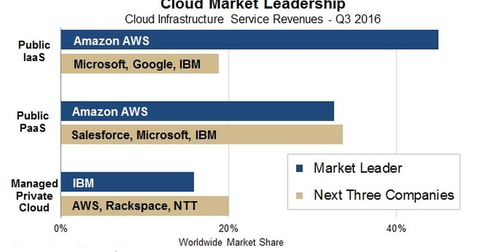 Why IBM Acquired Sanovi Technologies
By Anne Shields

Nov. 29 2016, Published 2:07 p.m. ET
IBM's acquisition spree continues
IBM (IBM), known for its aggressive acquisition strategy, completed its acquisition of Sanovi Technologies on November 15, 2016. Sanovi Technologies provides business continuity, cloud migration, and hybrid cloud software solutions. 
As is usually the case with IBM's buyouts, financial details of the acquisition weren't disclosed.
Sanovi has its headquarters in Bangalore, India (EPI). Chandra Sekhar Pulamarasetti, cofounder and CEO of Sanovi, said about Sanovi's acquisition, "IBM's technology leadership in hybrid cloud infrastructure and resiliency services makes it a clear choice to bring end-to-end services to our customers and transformational value to IBM's existing client base."
Sanovi's offerings will be integrated into IBM's resiliency portfolio and its Global Technology Services (or GTS) segment.
Article continues below advertisement
IBM's dominance in the hybrid cloud space will get a boost with Sanovi Technologies
IBM, a leader in the hybrid cloud space, entered into a strategic partnership with VMware (VMW) to further boost its position in the hybrid cloud space. Apart from strengthening IBM's position in the hybrid cloud space, IBM said that Sanovi Technologies would enhance its "position in cloud migration and business continuity software for enterprise data centers and cloud infrastructure."
Recently, VMware entered into a partnership with Amazon (AMZN), which is symbiotic to both companies, as VMware will get a much-needed push from Amazon's undisputed dominance in the overall cloud space, and Amazon will gain a foothold in the hybrid cloud space.
In late June 2016, IBM was ranked a market leader in cloud application development and transformation by TBR (Technology Business Research), an independent technology market research company. TBR also ranked IBM a market leader in public cloud IaaS (infrastructure-as-a-service) adoption.