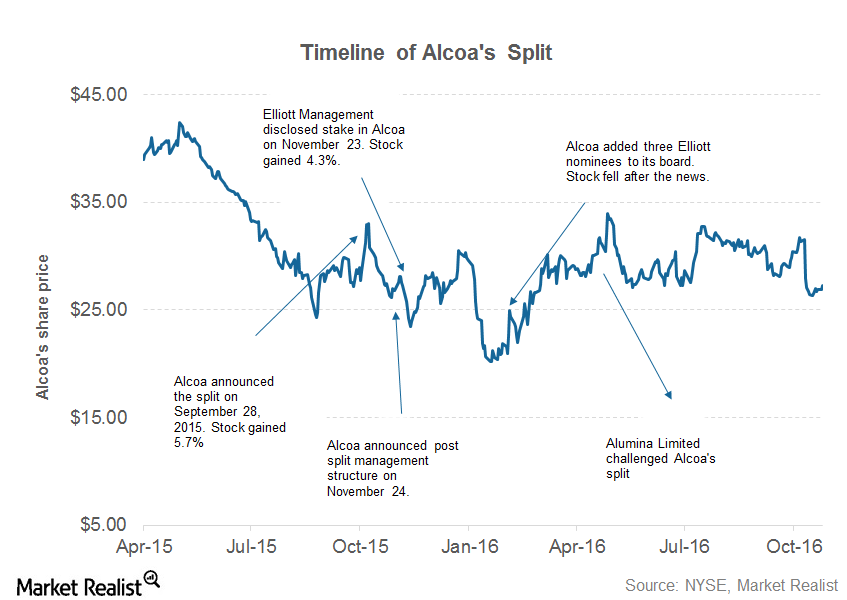 Has Alcoa's Split Lived Up to the Hype?
By Mohit Oberoi, CFA

Nov. 8 2016, Updated 2:15 p.m. ET
Alcoa's split
On November 1, 2016, Alcoa split into two new entities—Alcoa (AA) and Arconic (ARNC). The split completed the process that was initiated by the company in September 2015. But the actual seeds of the split were planted almost a decade ago when Alcoa started to expand its value-add portfolio. Some observers point to Warren Buffett's acquisition of Precision Castparts (BRK-B) as the final trigger for Alcoa's split.
Article continues below advertisement
Investor interest
Alcoa's split attracted a lot of investor interest. Most analysts and institutional investors supported the company's effort to separate its commodity business (XME) from its value-add engineering business. However, some market participants questioned the split.
Dis-synergies from the split and the ability of a pure play commodity company (CENX) to survive the prolonged spell of low metal prices were the arguments put forward by those who were against the split. Alumina Limited, which is Alcoa's joint venture partner in AWAC (Alcoa World Alumina and Chemicals) also challenged the split only to relent later on. On the other hand, institutional investors such as Elliot Management found value in Alcoa's split.
Alcoa's split
Alcoa's split has turned out to be a disappointment. While Alcoa has seen some upward price action, Arconic has been on a losing spree since the listing. In this series, we'll explore why the split failed to live up to the initial hype. We'll also see what lies ahead for the two new entities.
Let's begin by looking at Alcoa's post-split performance.