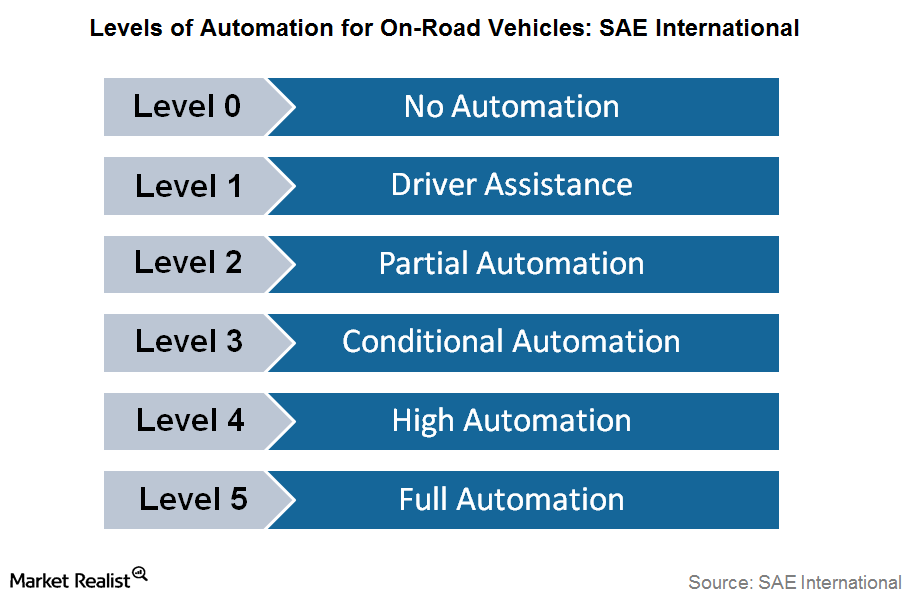 All You Need to Know about the Levels of Autonomous Vehicles
By Jitendra Parashar

Sep. 2 2016, Updated 1:13 a.m. ET
Levels of autonomous vehicles
Autonomous vehicles are on the verge of becoming a reality. Mainstream automakers (FXD) including General Motors (GM), Ford Motor (F), and Fiat Chrysler Automobiles (FCAU) are all focusing on building vehicles capable of driving themselves with minimal or no human input.
Article continues below advertisement
Definition by SAE International
SAE International is a US-based association of engineers in the field of mobility, which includes automobiles and aerospace. The association has identified six various levels for vehicles. As you can see in the chart above, Level 1 starts from no vehicle automation, while Level 2 and Level 3 require some monitoring by a human driver.
Currently, Ford has promised to deliver a fleet of SAE Level 4 autonomous vehicles for ride-sharing services by 2021. This type of vehicle may not require any human monitoring, and the machine should be able to respond to various situations even if a human driver ignores requests to intervene.
Autonomous vehicles according to NHTSA
In the US, the NHTSA (National Highway Traffic Safety Administration) has defined four levels of vehicle automation (excluding Level 0 for vehicles without automation). Level 2 of vehicle automation is already being offered by automakers including BMW, GM, and Tesla (TSLA). By definition, the next level of automation, Level 3, will offer self-driving features in vehicles under certain conditions. However, at all times, the driver should be alert enough to control the vehicle whenever required.
Currently, most of the companies testing Level 3 automation in their vehicles will have models available for consumers in coming years. Consumers might need to wait longer for Level 4 autonomous vehicles, which don't require any human control while on the road.
Continue to the next part to learn how autonomous vehicles aim to make commutes safer.