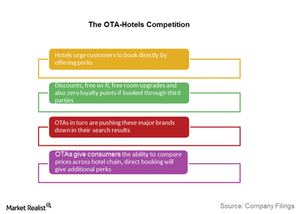 Can Marriott Compete with Online Travel Giants?
By Ally Schmidt

Updated
Online travel agencies 
Hotels have tried to lure customers to their sites by offering perks that aren't available when booking through the third-party vendors. Perks include discounts, free Wi-Fi, free room upgrades, and also zero loyalty points if booked through third parties.
In turn, online travel agencies are pushing these major brands down in their search results. For consumers, the ability to compare prices across hotel chains is a big plus for online travel agencies.
The size of the Marriott (MAR)-Starwood (HOT) merger definitely gives it higher negotiating power. According to Expedia, it will still be difficult for Marriott to compete with online travel agencies due to their technology and digital marketing expertise.
Article continues below advertisement
Why do hotels want you to book directly?
Well for one, online travel agencies charge as much as 10% or more in commissions—money that hotels can retain if consumers book on their own or also use the margin to offer customers discounts.
Hotels also want you to book directly for the same reason that Google (GOOGL) wants to control all aspects of our lives—data about consumer behavior. When a customer books through a third party, the data doesn't necessarily trickle down to hotels. The data can help hotels access spending patterns and consumer habits. The data allow them to improvise their products accordingly. At least, that's what the hotel chains are claiming.
Consumers might benefit
Well, the upside of these two industries sparring against each other is that Marriott will strive to retain or increase the value of its loyalty program—its one weapon against online travel agencies. That's certainly one reason for consumers to rejoice about this merger.
Investors can gain exposure to Marriott by investing in the First Trust NASDAQ-100 Equal Weighted Index Fund (QQEW), which invests ~1.1% of its portfolio in the stock. Next, we'll look at how analysts rate these hotel chains.