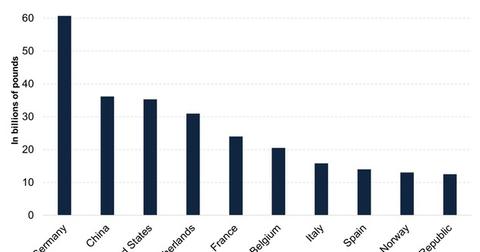 Will the Brexit Vote Benefit the United Kingdom?
By David Ashworth

Jul. 18 2016, Published 11:19 a.m. ET
Arguments for Brexit being beneficial
We'll analyze the Brexit vote's global impact in this series. First, let's see if there are any benefits for the United Kingdom after it decided to leave the EU (European Union).
A major benefit for the United Kingdom would be freedom to make its own decisions instead of being directed by Brussels. This would help it have more control over migrants and refugees. Also, the decision to leave the EU would mean that the United Kingdom wouldn't need to financially contribute to the EU—it would save money.
The EU is based on the following four freedoms:
freedom of establishment
free movement of capital
free trade of goods and services
free movement of citizens
Article continues below advertisement
Trade may not be hurt as bad as imagined
There's an argument that moving away from the EU would hurt the United Kingdom's financial and trade industry. Although the United Kingdom's banks (BCS) (RBS) (LYG) and financial institutions will face challenges, the threat to free trade may not be as great as the original estimates.
The United Kingdom imports more from the EU than it exports. According to data from HM Revenue & Customs, exports to EU countries stood at 133.4 billion pounds in 2015, while imports from EU countries were 219 billion pounds. If the EU imposed high tariffs on the United Kingdom's exports, the United Kingdom could do the same on its imports from the bloc. This would hurt EU member nations like Germany (EWG), the Netherlands (EWN), France (EWQ), and Belgium (EWK)—they're large trading partners of the United Kingdom. Given the United Kingdom's competitive advantage in producing some goods, the EU may not want to be as harsh in terms of trade negotiations.
Another small positive is the weak pound. It will make the United Kingdom's exports more appealing in the international market price-wise. As a result, exports will be more competitive.
Given the above, it's possible that the Brexit vote's repercussions might be more severe for the European Union than for the United Kingdom itself. Let's look at some geopolitical and economic impacts that the Brexit vote might have going forward.