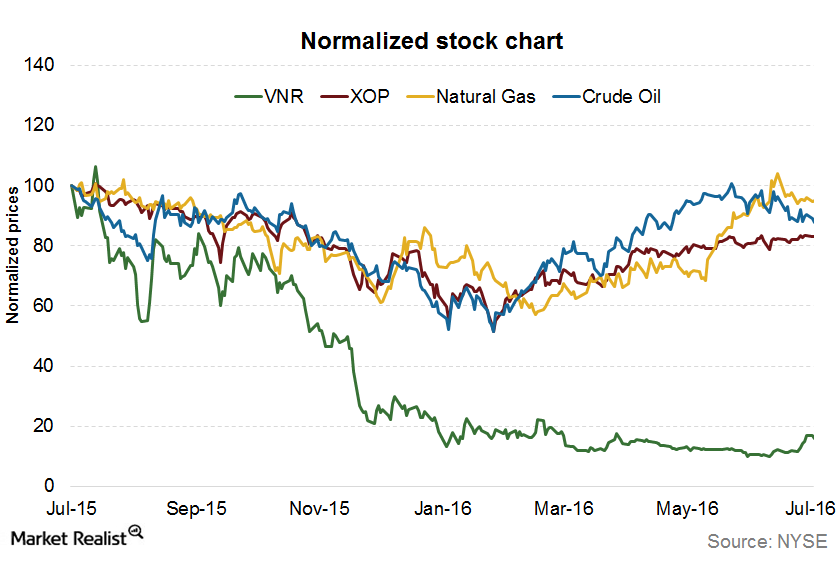 Why Vanguard Natural Continues to Underperform the Sector ETF
By Kurt Gallon

Jul. 22 2016, Updated 1:15 p.m. ET
Vanguard Natural's market performance
Vanguard Natural Resources (VNR) has lost 37.6% of its market value since the beginning of 2016, while other upstream C corporations have recovered slightly with the recovery in commodity prices. The upstream-energy-company-heavy SPDR S&P Oil & Gas Exploration & Production ETF (XOP) has returned 14.7% in 2016. VNR underperformed the ETF by 52.3% percentage points.
VNR's peers, EV Energy Partners (EVEP), Memorial Production Partners (MEMP), and Legacy Reserves (LGCY) have lost 11.0%, 35.2%, and 5.0%, respectively during the same timeframe. VNR's underperformance relative to XOP can be attributed to its high leverage, liquidity crisis, and distribution suspension.
Article continues below advertisement
Vanguard Natural's liquidity position
VNR announced a borrowing base redetermination under its credit facility on May 26, 2016. The revised borrowing base of $1.3 billion is below the outstanding borrowings of $1.4 billion under its credit facility, which resulted in a deficiency of $103.5 million. This includes $4.5 million of outstanding letters of credit.
Now, VNR has to repay the deficiency amount in six equal monthly installments. The partnership expects to fund the deficiency amount from the excess cash flows generated during 2016. According to a recent investor presentation, VNR expects to generate $150 million in excess cash flow after distributions to unitholders in 2016. Of this, $103.5 million would be used for deficiency payments, leaving $46.3 million for debt repayments. This suggests that, at the current commodity price and production estimates, VNR may be in a tight liquidity position by the end of 2016. If VNR falls short of its estimates, the situation is expected to worsen. The partnership might cut its capital expenditure target to improve its liquidity position. However, this may result in future production declines.