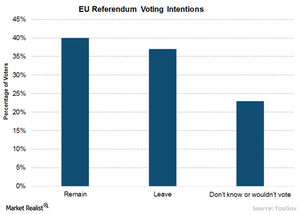 Why the UK's 'Brexit' Referendum May Be a Close Call
By Ewen Cameron Watt

May. 6 2016, Published 12:12 p.m. ET
BlackRock's Ewen Cameron Watt explains the potential implications of a British exit from the European Union.
On June 23, U.K. voters will have to answer this question: "Should the United Kingdom remain a member of the European Union (EU) or leave the EU?"
The result of the referendum may be a close call, and uncertainty about the outcome is already having an impact on the U.K. economy. On February 22, for instance, the sterling tumbled to a seven-year low against the dollar, according to Bloomberg data, after London Mayor Boris Johnson came out in support of the "leave" option.
Article continues below advertisement
Market Realist – Some high-profile UK politicians support a Brexit
On February 20, Britain's Prime Minister David Cameron set a date for a referendum on whether the United Kingdom (EWU)(EWUS) should stay in the European Union. The prime minister is strongly in favor of continuing with the European Union, but some high-profile MPs—like Justice Secretary Michael Gove and London's Mayor Boris Johnson—are in favor of leaving the European Union (IEUR)(EZU). Similarly, the UK Independence Party is campaigning for the United Kingdom's exit from the union (IEV).
The latest opinion polls show that the UK public is fairly evenly split. According to EU referendum voting intentions data from YouGov, 40% of voters are in favor of staying in the European Union, 37% are in favor of leaving, and 23% are either undecided or wouldn't vote.
The UK pound sterling saw a sharp fall in the past couple of weeks as the economic effects of the United Kingdom's exit from the European Union started to take hold. On February 29, the currency slipped to a multi-year low of $1.38. However, it has since recovered and is now trading at $1.44. Year-to-date, the pound sterling has depreciated 3.6% against the US dollar. It's expected to be volatile in the run-up to the referendum. It's probably going to be a close call.