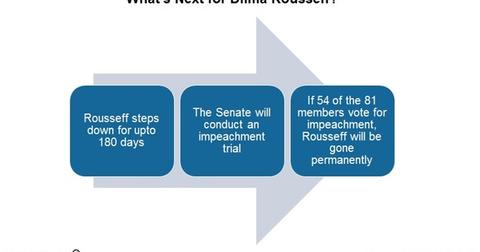 Michel Temer Takes Over: What's Next for Dilma Rousseff?
By David Ashworth

Updated
A change of guard: Michel Temer takes over
When Brazil's Senate voted 55–22 in favor of an impeachment trial against Dilma Rousseff, it meant that she would need to step down from her position for a period of up to 180 days.
In her absence, second-in-command Michel Temer will head the Brazilian government. If Rousseff is impeached by the senate, Temer will head the government until the next election in 2018.
Article continues below advertisement
Is it over for Dilma Rousseff?
Dilma Rousseff has repeatedly said that the entire impeachment process has been a coup against her. She has vowed to fight until the end. So what's next for Dilma Rousseff, and does she have a chance of returning to her position?
The senate will now convene to begin the impeachment trial against Rousseff. If two-thirds of the senate, which has 81 voting members, vote to impeach her, she won't be able to return to power, and Michel Temer will continue as Brazil's president until the scheduled end of Rousseff's term. Given that there were already 55 votes against her on May 12, even when all members did not vote, the chances of Dilma Rousseff's returning are quite slim.
Another reason it will be difficult for the former leader to return is that the impeachment trial is a senate trial, not a legal one. Rousseff admitted to possibly having made errors but said that she did nothing illegal. This argument could be made and judged in a court of law and would have given her a better chance of making a case for the impeachment to be dropped.
However, unlike a legal trial, a senate trial doesn't depend on legal arguments. If senators believe that Rousseff did wrong, they will vote against her regardless of the legal standpoint.
Stocks, bonds, and the real
It seems that the movements of Brazilian stocks (BSBR) (GGB) (VIV), bonds, and the Brazilian real will now depend on what Michel Temer brings to the table. However, if Dilma Rousseff and her supporters are seen gathering increasing support, it will take a toll on all segments of Brazil's financial markets. Associated instruments such as mutual funds (JLTAX) and ETFs (ILF) (EEML) will be hurt as well.
Let's look at what's next for Michel Temer and his team.