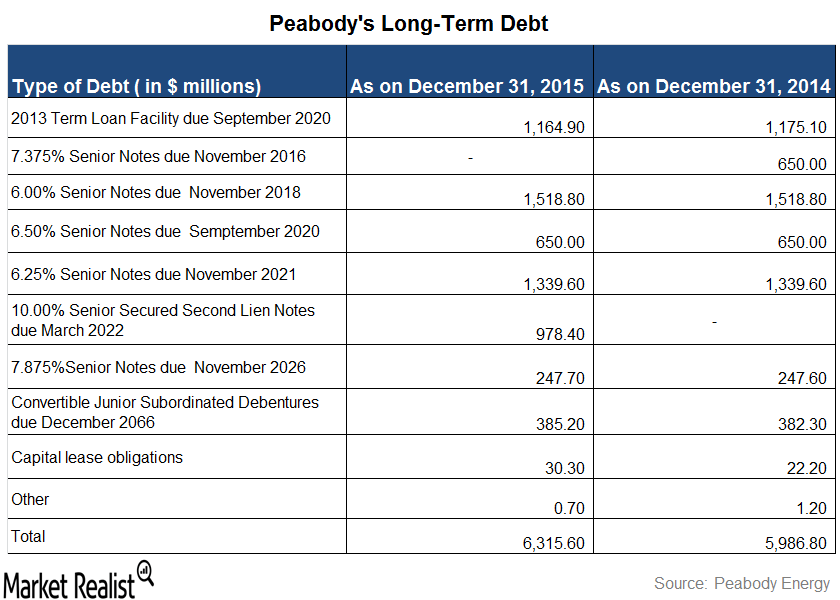 What's Next for Peabody Energy?
By Sheldon Krieger

Apr. 26 2016, Updated 7:05 p.m. ET
Court approval
The bankruptcy court has granted interim approval of $800 million as debtor-in-possession (or DIP) financing. Out of $800 million, $500 million is available in the form of term loan facility, $100 million in the form of a letter of credit facility, and the remaining $200 million as bonding accommodation facility. According to the court approval, Peabody Energy (BTUUQ) can immediately access $200 million out of the $500 million term loan.
DIP lenders, which include entities managed by Franklin, Aurelius, CapRe, and Elliott, hold 80% of the DIP commitment. Peabody's existing creditors will hold the remaining 20%.
Article continues below advertisement
According to company filings, Peabody's subsidiary P&L Receivables didn't file for Chapter 11 petition. P&L Receivables is a special purpose vehicle involved in the selling of Peabody's receivables. As a result, the company could continue with securitization of its trade account receivables unless there is an amendment in the court order. Securitization of trade receivables may help Peabody Energy to raise low-cost capital, as the credit ratings of collateral can be higher than Peabody's corporate credit ratings.
As per the company's press release, the court will hold a hearing in May 2016 to issue the final orders regarding Peabody's first-day motions and the final approval of the DIP financing.
Moving ahead
During the restructuring process, Peabody Energy hopes to continue its normal course of business with cash generated from ongoing operations, existing liquidity, and new financing. As on March 11, 2016, the company had about $0.90 billion in liquid assets.
Impact on Peabody Energy's peers
In the short term, Peabody's bankruptcy may not have any positive impact on its peers Arch Coal (ACIIQ), Alpha Natural Resources (ANRZQ), and Cloud Peak Energy (CLD). Bankruptcy protection allows Peabody to continue its normal course of business. Moreover, DIP financing will improve the company's liquidity position and provide an opportunity to recover from its present condition. In the long term, Peabody's restructured business recovery predominantly depends on demand for coal (KOL) in both domestic and international markets. For now, we'll have to wait and see.