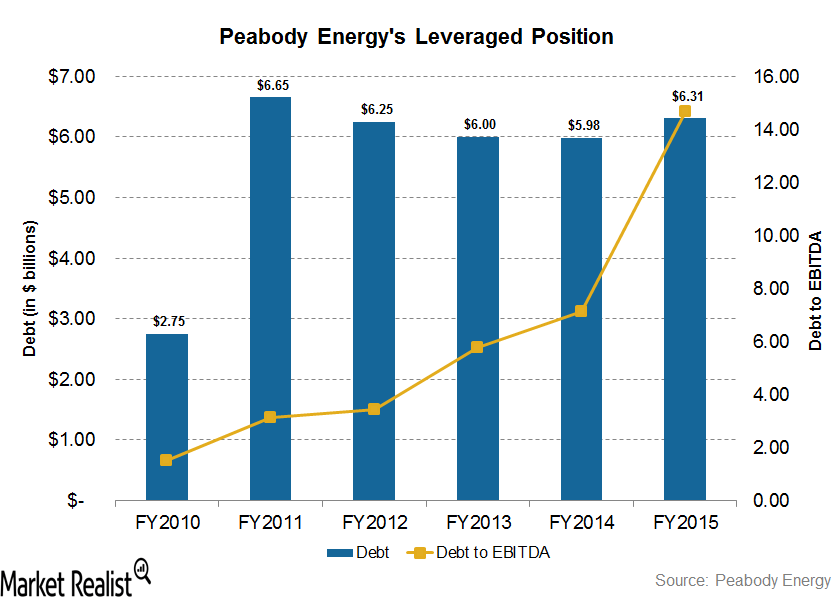 What Was Peabody Energy's Path to Bankruptcy?
By Sheldon Krieger

Apr. 15 2016, Published 3:30 p.m. ET
Factors that led to Peabody's bankruptcy
financial leverage
weak export market
inexpensive natural gas prices
increased environmental scrutiny
Article continues below advertisement
Financial leverage
Peabody Energy (BTUUQ) expanded its presence both in the US and internationally through strategic acquisitions. These acquisitions helped the company to diversify its portfolio of assets and its customer base. However, the timing of the acquisitions was not in favor of Peabody Energy.
In 2006, Peabody Energy expanded its presence in Australia through the acquisition of Excel Coal for about $1.5 billion. Peabody also assumed Excel Coal's debt. On October 26, 2011, Peabody Energy completed its biggest acquisition of Macarthur Coal Limited for $5.2 billion. With these acquisitions, the company was betting on high metallurgical coal prices prevailing at that time.
Peabody Energy's peers Arch Coal (ACIIQ), Alpha Natural Resources (ANRZQ), and Walter Energy (WLTGQ) also made leveraged acquisitions. Only a few coal mining companies such as Cloud Peak Energy (CLD) and Alliance Resource Partners (ARLP) refrained from acquiring coal assets on leverage.
The trend of metallurgical coal (KOL) prices and steam coal prices reversed soon after Peabody Energy's major acquisition. Metallurgical coal prices in the international market fell by nearly 75% since their peak in 2011. Moreover, steam coal prices also followed the trend due to subdued demand. The demand for coal continued its downtrend due to oversupply in the global markets and concerns regarding China's growth.
Impact on Peabody
As a result of its leveraged position, Peabody Energy had consolidated debt of more than $6.3 billion as of December 31, 2015, during challenging market conditions. The increase in interest expenses accompanied by a decrease in revenues on account of lower price realization on sales increased the company's deficit. As a result, the company couldn't serve its debt and ultimately was forced to file for Chapter 11 bankruptcy protection.
In the next part of this series, we'll look at other major factors that led Peabody Energy to file for bankruptcy.