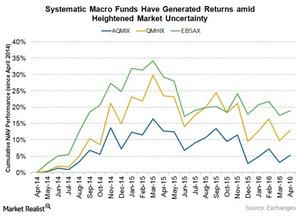 What Funds Have Risen despite Heightened Market Uncertainty?
By Surbhi Jain

Nov. 20 2020, Updated 4:40 p.m. ET
Volatility has peaked over the last two years
The past two years have seen market uncertainty heightening to levels last seen during the flash crash of 2010 and the debt-ceiling crisis of 2011. The CBOE Volatility Index, a popular measure of the implied volatility of S&P 500 Index options, breached the 40 level on August 24, 2015, when China's (FXI) stock market crash led all major world (ACWI) (VEU) (VTI) indexes to fall.
Article continues below advertisement
Systematic macro funds have performed well
Nonetheless, systematic macro funds have fared well, with the AQR Managed Futures Strategy Class I (AQMIX) generating a 5.2% return over the past two years. Our series titled Investing in AQMIX: Everything Investors Need to Know provides an in-depth study into the fund and its performance.
The AQR Managed Futures Strategy HV Fund Class I (QMHIX) and the Natixis ASG Managed Futures Strategy Fund Class A (AMFAX) have risen 13% and 11%, respectively, over the same period. The Equinox Campbell Strategy Class A (EBSAX) is another systematic macro fund that has performed well, having returned 18.3% to its investors. For further insight, read EBSAX: A Structural Analysis of the Alternative Mutual Fund.
Two kinds of systemic macro strategies
Systematic macro strategies can be trend-following or counter-trend. Trend-following strategies seek to gain from positions established after a trend has been established in expectation of the trend continuing.
Those following counter-trend strategies buy when the markets are oversold and sell when the markets are overbought. The 361 Global Counter-Trend Fund (AGFZX) has risen about 10% over the last six months (as of April 4) and 5.5% YTD (year-to-date). The 361 Global Counter-Trend Inv Fund (AGFQX) has risen 9.7% over the last six months and 5.3% YTD.
In the next part of this series, we'll take a look at what strategy has been driving hedge fund returns so far this year.