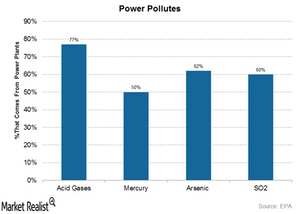 How Regulations and Natural Gas Prices Escalated Peabody's Troubles
By Sheldon Krieger

Updated
Environmental regulations
The coal mining industry is one of the most regulated industries in the United States. Coal mining companies such as Peabody Energy (BTUUQ) primarily cater to power utilities and steelmakers. Increased environmental scrutiny in power generation and steel production has an indirect impact on coal mining companies.
Environmental regulations such as MATS (Mercury and Air Toxics Standards) and CPP (Clean Power Plan) require power plants to reduce the emission of toxic pollutants and carbon dioxide. According to the U.S. Energy Information Administration (or EIA), in 2012 alone, 10.2 GW of coal-fired capacity was retired to comply with the new environmental regulations.
Article continues below advertisement
Inexpensive natural gas
Weak natural gas prices have haunted Peabody Energy right up to its Chapter 11 bankruptcy filing. Those prices are still affecting the company. According to the EIA, almost 90% of the coal consumed in the United States is used in electricity generation.
The coal industry faces tough competition from natural gas as an alternative fuel for electricity generation. Natural gas prices dropped sharply between 2008 and 2012 as a result of the shale gas boom. The current natural gas rates are a third of what they were ten years ago. Low prices give natural gas a competitive advantage over coal in electricity generation. Low natural gas prices also reduced the domestic demand for coal.
Impact on Peabody Energy
Decreased dependence on coal in power generation reduced the domestic demand for coal. Low natural gas prices further worsened the situation for Peabody Energy (BTUUQ) and its peers Arch Coal (ACIIQ), Alpha Natural Resources (ANRZQ), Cloud Peak Energy (CLD), Alliance Resource Partners (ARLP), and other major coal (KOL) mining companies.