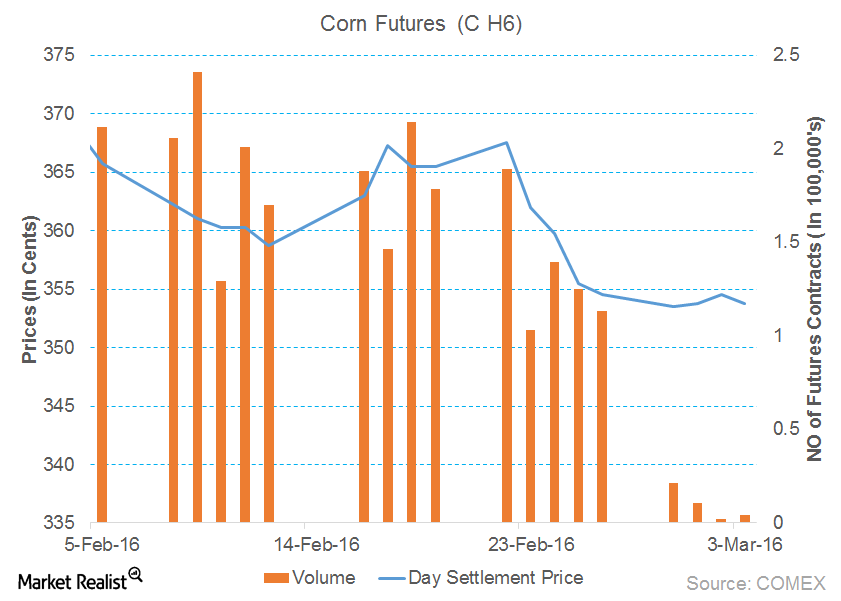 Strong South American Harvests Hurt Corn Prices
Corn prices decline
Corn futures on the Chicago Board of Trade (or CBOT) for March delivery decreased by 0.21% and closed at $3.53 per bushel on March 4, 2016. Corn prices declined due to the stronger pace of the South American harvest with favorable weather conditions for the near term. Despite the fall in corn prices, the Teucrium Corn ETF (CORN) rose by 0.29% on March 4, 2016.
South American weather is anticipated to remain mostly favorable for the corn harvests. Weather conditions are projected to remain dry in most of the corn-producing regions, which support harvest activities.
Article continues below advertisement
The pace of corn output is expected to remain steady and above with supportive climate conditions. It could increase the pace of shipments and support exports from South America, posing a threat of increased competition for US corn. It hurt the prospects of US corn exports and futures prices on March 3, 2016.
The U.S. Department of Agriculture released its weekly export sales data on March 3, 2016, for the week ended February 25, 2016. Corn net weekly export sales for the week were 1,097,634 metric tons. It was 18% higher than the previous week and 25% more than the last four-week average.
The rise in exports was primarily from Colombia, Japan, and Peru. Corn exports for Panama and Costa Rica declined. Despite stronger figures for the third consecutive week compared to the forecast of 700,000–1,100,000 metric tons, corn demand sentiments increased and supported futures prices on March 3, 2016.
Stock discussion
The slide in corn damages the prospects of companies in the corn-producing and trading domain. Businesses such as CHS (CHSCP) fell slightly by 0.13% on March 3, 2016. In contrast, Tyson Foods (TSN), Campbell Soup (CPB), and Ingredion (INGR) rose by 0.36%, 0.65%, and 1.4%, respectively, on March 3, 2016. The PowerShares DB Agriculture ETF (DBA) ETF rose by 0.75% on March 3.
In the next part of this series, we'll take a look at corn prices and whether they'll continue to test crucial support.