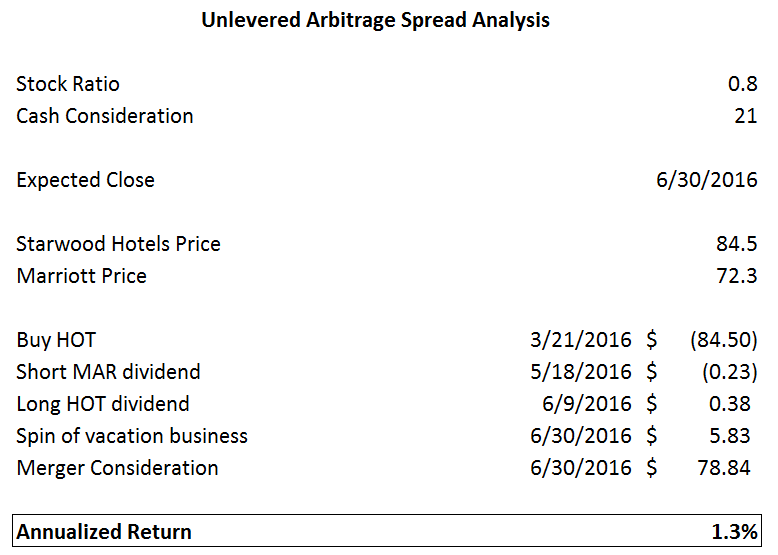 Why Did Starwood Accept a Better Offer from Marriott?
By Brent Nyitray, CFA, MBA

Mar. 22 2016, Published 7:13 a.m. ET
Starwood found itself in a bidding war
On March 21, Starwood (HOT) accepted a better offer from Marriott (MAR) after deeming that Chinese insurer Anbang's offer was superior over the weekend. On March 14, Anbang submitted an unsolicited offer of $76 per share. To learn more, read An Interloper Enters the Starwood-Marriott deal. On March 18, Starwood announced that it accepted an offer from Anbang at $78 per share. It determined that Anbang's offer was superior. Starwood postponed its shareholder meeting. It gave Marriott until March 28 to come up with a superior offer.
On March 21, Starwood and Marriott amended their merger agreement to top Anbang's offer. For the particulars of the initial Starwood-Marriott deal, read Lodging Industry Reacts to Airbnb—the Starwood-Marriott Merger.
Article continues below advertisement
The amended merger spread is trading at an annualized return of 1.3%. This is pretty tight. It assigns almost no probability that Anbang will bump its offer. As a general rule, during bidding wars, the target stock will trade at a premium until the final buyer is sorted out. This could be a function of simply less arbitrageurs in the business. After several years of subpar returns, money exited the strategy. Ironically, the merger arbitrage opportunities are the best in a decade.
Other merger arbitrage resources
Other important merger spreads include the merger between Cigna (CI) and Anthem (ANTM). It's set to close at the end of 2016. For a primer on risk arbitrage investing, read Merger Arbitrage Must-Knows: A Key Guide for Investors.
Investors who are interested in trading in the hotel sector can look at the PowerShares Dynamic Leisure and Entertainment Portfolio (PEJ).