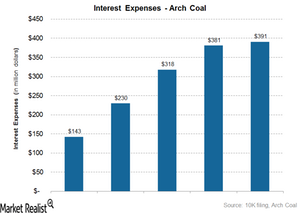 What Does Bankruptcy Mean for Arch Coal Investors?
By Sheldon Krieger

Jan. 19 2016, Updated 1:28 p.m. ET
Interest expenses
Arch Coal's (ACIIQ) Chapter 11 bankruptcy filing is aimed at reorganization to facilitate financial restructuring. It was a similar case for Walter Energy (WLTGQ) and Alpha Natural Resources (ANRZQ).
High leveraged acquisitions led to a consistent increase in interest expenses for major coal (KOL) mining companies such as Peabody Energy (BTU), Alpha Natural Resources (ANRZQ), and Arch Coal (ACIIQ). In its latest 10-Q filing, Arch Coal reported an interest expense of $298.5 million dollars for nine months ended September 30, 2015. The company couldn't negotiate favorable terms with lenders and ultimately filed a Chapter 11 bankruptcy.
Article continues below advertisement
Chapter 11 filing
Chapter 11 is usually filed by a debtor to keep its business alive and pay creditors over time. Creditors generally agree to the restructuring plan if they believe the sum value of the reorganized company is greater than its individual parts if sold separately.
According to Arch Coal's news release on its Chapter 11 filing, the company reached a restructuring agreement with the majority of its first-lien creditors. The bankruptcy court approved all of the first-day motions related to this Chapter 11 restructuring.
First-day motions seek approval to make immediate payments, post-petition financing agreements, payments to employees, and other procedural issues.
What about investors?
Approval of first-day motions generally helps the debtor's transition to Chapter 11. With this approval, Arch Coal can continue operating its business in the ordinary course. It has to implement the agreement reached with majority lenders under the first lien financing facility.
Low-risk investors or secured creditors will be paid first before paying unsecured creditors. Bondholders have greater chances of recovering their money than stockholders.
In general, bondholders don't receive any interest or principal payments. Stockholders don't receive any dividends during bankruptcy.
According to Arch Coal's latest 10-Q filing, the company has about $0.60 billion more liabilities than its consolidated assets and is, therefore, insolvent. Stockholders may not get anything from the restructured business, as the company is already insolvent.