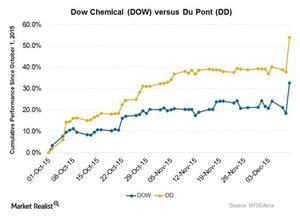 Dow Chemical and Du Pont Lift the Material Sector to Gain 3%
By Renee Blakely

Updated
Merger on its way
Dow Chemical (DOW) and Du Pont (DD) each jumped 11.9% on December 9, 2015, when the chemicals companies were reported to be in talks concerning a combination of their business. Such a combination would emerge as the world's largest chemical company. The companies were in the final stages of discussion on Thursday, December 10, 2015. They are anticipated to go for a spin-off, and the new company is expected to generate annual sales of about $90 billion. The following graph compares the stock price movement of Dow Chemical (DOW) and Du Pont (DD) since October 2015.
Following this corporate move, stocks FMC (FMC), Mosaic (MOS), Eastman Chemical (EMN), CF Industries Holdings (CF), and LyondellBasell (LYB) rose 1.2%, 2.7%, 2.9%, 2.5%, and 1.7%, respectively, on December 9.
Article continues below advertisement
In-depth analysis
The ETF-weight of Dow Chemical (DOW) and Du Pont (DD) in the SPDR S&P 500 ETF (SPY) is 0.29% and 0.35%, respectively. Also, the value of beta for DOW and DD is 1.32 and 0.86, respectively. Therefore, Dow is more volatile than DD, as its value is more than one, and more than DD as well. The trailing-one-year return of DOW and DD is 22.9% and 10.1%, respectively, as of December 9.
After the news of a probable merger, trading volume of the stocks of DOW and DD surged 63,204,608 and 25,215,481 stocks, respectively, on Wednesday. This was 9,932,938 stocks for DOW and 3,661,538 stocks for DD on the previous day.
The trading price of DOW was $56.97, or is above its moving averages. Its 100-day, 50-day, and 20-day moving average values were $47, $50, and $52, respectively. As the company crossed its moving averages, the stocks are expected to follow an upward trend in price movements.
On the other hand, Du Pont traded at $74.49 and above its 100-day, 50-day, and 20-day moving average values of $57, $62, and $67, respectively.
DOW has earned 13 "Buy" 11 "Hold," and two "Sell" recommendations, while DD garnered eight "Buy," 17 "Hold," and one "Sell." Both stocks are rated as "Stable" by the Standard & Poor's.
Next, let's analyze the moving averages of the technology sector.