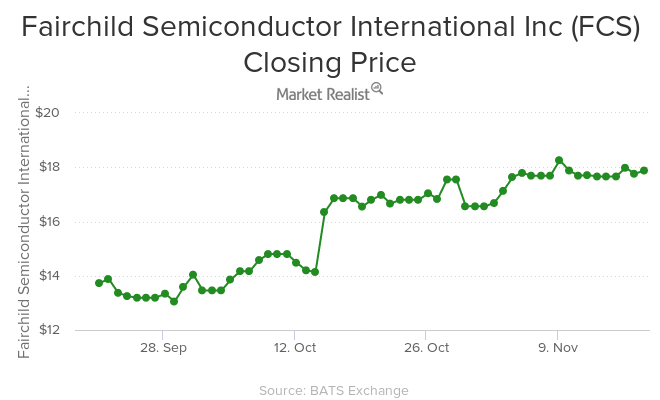 ON Semiconductor Swoops Up Fairchild in $2.4 Billion Cash Deal
By Puja Tayal

Nov. 20 2020, Updated 2:26 p.m. ET
ON Semiconductor acquires Fairchild
Since October 14, 2015, Fairchild Semiconductor International (FCS) has been in the news over rumors that it's in merger talks with ON Semiconductor (ON) and Infenion. On November 18, 2015, the rumors were dispelled when Fairchild announced its acquisition by ON Semiconductor for a total cash consideration of $2.4 billion.
The deal values Fairchild at $20 per share, which is a 12% premium to the November 17, 2015, closing price of $17.88 and a 41% premium to the October 13, 2015, closing price of $14.14.
[marketrealist-chart id=829156]
After the deal was announced, ON Semiconductor (ON) shares fell ~8% to $9.89, while Fairchild's shares rose 8.5% to $19.40 on November 18, 2015.
Article continues below advertisement
Potential bidders for Fairchild
There were rumors that STMicroelectronics (STM) was also considering Fairchild for acquisition. But in its earnings call, STM stated that it doesn't plan to make an acquisition offer.
According to analysts, another potential bidder for Fairchild could be China's Tsinghua Unigroup, which recently announced plans to invest $47 billion to expand chip manufacturing through acquisitions and capital expenditure.
Some analysts believe that ON Semiconductor acquired Fairchild to prevent competitors from acquiring it.
Combined company
Fairchild and ON Semiconductor manufacture power semiconductors. They reported revenues of $1.4 billion and $3.2 billion, respectively, in fiscal 2014. The two companies have a revenue overlap of less than $100 million, since they serve some common markets. They also have a little product overlap. ON Semiconductor builds low-voltage chips, and Fairchild produces high- and medium-voltage chips.
The combined company will have annual revenues of approximately $5 billion. The merger will bring ON Semiconductor annual savings of $150 million within 18 months from the time the deal is closed, which is expected to happen by June 2016.
Semiconductor consolidation frenzy
According to Bloomberg, the total value of proposed semiconductor merger and acquisition deals over the past 12 months is $91.7 billion after taking into consideration the Fairchild-ON deal.
As part of the semiconductor consolidation trend, Microsemi has made another counteroffer to acquire PMC-Sierra (PMCS). We'll look at this in more detail in the next part of this series.
You can invest in ON Semiconductor through the iShares Russell 1000 Growth ETF (IWF). It has a 0.04% exposure in the company's stock.