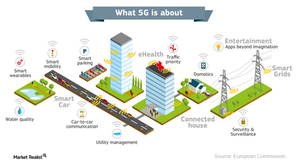 What Is Ericsson's 5G Technology?
By Puja Tayal

Updated
Ericsson targets 5G launch by 2020
Previously in the series, we saw that Indian telecom (telecommunication) providers are investing heavily in 3G (third generation) and 4G (fourth generation) networks. While Ericsson (ERIC) was slow to secure contracts for the 4G LTE networks, it's looking to be ready for 5G (fifth generation) by 2020. 5G technology will support the company's vision of creating a networked society as the Internet becomes increasingly present in day-to-day life.
Ericsson is working with several countries, including the United States and Korea, to develop 5G technology and expects to launch it by 2020.
Article continues below advertisement
What is 5G technology?
Gartner estimates that the number of devices connected to the Internet will increase 30% year-over-year to 4.9 billion in 2015 and that this number will reach 25 billion by 2020. However, IoT (Internet of Things) faces three major challenges: poor network connectivity, low battery life, and the high cost of the device. Ericsson is working on finding a solution for these challenges.
5G technology will create a high-speed network that has no dead zones, no congestion, and can support any number or type of device at no additional cost. 5G will support machine-to-machine communication. For instance, a car that is deploying its air bag in a crash can send a message to nearby cars to apply the brakes immediately. The 5G technology will support Intel's (INTC) IoT segment, which designs embedded chips for network-connected devices.
Arun Bansal, Ericsson's senior vice-president and head of its radio business unit, stated that Ericsson is also creating an end-to-end software solution for IoT devices with limited battery usage. 5G technology will not require equipment upgrades but will require improved versions of radio access, cloud, and core technologies, along with some new complementary technologies.
The merger of Nokia (NOK) and Alcatel-Lucent (ALU) will give competition to Ericsson, as the merged company will have the capability to speed up development of 5G.
Ericsson's new radio system
Recently, Ericsson launched a new radio system in India (EPI) that will not only support 2G, 3G, and 4G, but will also support 5G. The new system will offer 5 Gbps (gigabits per second) speed and will deliver three times the capacity density.