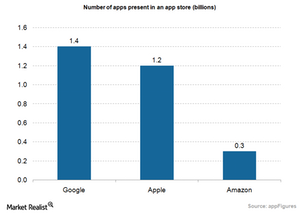 App Annie Acquires Mobidia to Expand Its Reach
By Puneet Sikka

Updated
Mobidia will help App Annie provide mobile app usage insights
Mobile app analytics firm App Annie has acquired Canadian-based company Mobidia for an undisclosed sum, according to App Annie's blog post on May 6.
App Annie tracks thousands of mobile apps to provide app download analytics reports. Mobidia's technology will give App Annie mobile app usage insights. This feature is particularly useful for developers that want to understand how users are engaging with their apps. Mobidia will also help App Annie extend its international reach to 60 countries.
Article continues below advertisement
App Annie was in the news a few weeks ago, when its research revealed that Google's (GOOGL) Google Play got 70% more downloads than Apple's (AAPL) App Store in 1Q15, but that Apple's App Store earned 70% more revenues than Google Play. The reason Google hasn't monetized its downloads from Google Play to the same degree as Apple is that its growth has mainly come from emerging markets (EEM), which are more cost-conscious.
Mobile analytics market is getting competitive
Apple and Google have a large number of apps in their respective app stores, which presents a challenge for mobile analytics firms such as App Annie to analyze. According to a report from appFigures, and as the chart above shows, Google had ~1.4 million apps in its app store in 2014 compared to ~1.2 million apps on Apple's platform. Amazon (AMZN) placed third on this list, with about 300,000 apps on its platform.
App Annie's acquisition comes just as the mobile analytics market is heating up. Yahoo (YHOO) acquired Flurry in July 2014. Meanwhile, Twitter (TWTR) acquired MoPub a couple of years ago. With the help of MoPub, Twitter even went on to develop new developer platform, Fabric.