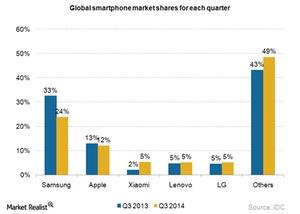 How buying BlackBerry could have benefited Samsung
By Puneet Sikka

Updated
Samsung's smartphone business 
A report from Reuters on January 14 surprised the world when it declared Samsung (SSNLF) was looking to buy BlackBerry (BBRY). The story suggested the deal would pay BlackBerry a premium of 38% to 60% over the company's actual trading price. As a result, BlackBerry shares soared as much as 30% on the day. Later, BlackBerry and Samsung both denied this report, and BlackBerry's shares retreated by about 15%.
Article continues below advertisement
The question that we're now left with is why would Samsung be interested in buying BlackBerry in the first place. One thing is true—Samsung's fortunes have declined over the past year or so. Its operating profits continue to fall. For more on this topic, read Why Samsung predicts its profits will fall in the 2nd quarter.
As well, Samsung is losing share in the global smartphone market. According to a report from the IDC (International Data Corporation), and as the chart above shows, Samsung's market share has slipped from 33% in 3Q13 to 24% in 3Q14. Apple's (AAPL) share has remained more or less constant at 12%.
The dark horse in this story is Xiaomi, which has managed to take over the third spot in the global smartphone market behind Samsung and Apple. In fact, Samsung has lost its top smartphone position to Xiaomi in China.
The "Others" category is also coming on strong and now owns about half of the smartphone market. This cateogry mainly consists of low-cost smartphones based on Google's (GOOG)(GOOGL) Android operating system.
BlackBerry would strengthen Samsung's enterprise business 
By acquiring BlackBerry, Samsung would stand to gain from the company's strong position in the enterprise business. BlackBerry's recent mobile device management software release, BES12, is considered to be a potential growth driver for the company. For more on this topic, read BlackBerry's enthusiastic about its latest software release, BES12.
Buying BlackBerry would also allow Samsung to overcome the competitive threat posed by Apple's partnership with IBM (IBM). The partnership will see Apple develop about 100 mobile apps for enterprises. It will then use IBM's big data and analytics capabilities to improve enterprise productivity. In other words, Apple has its eye on becoming a serious player in enterprises.