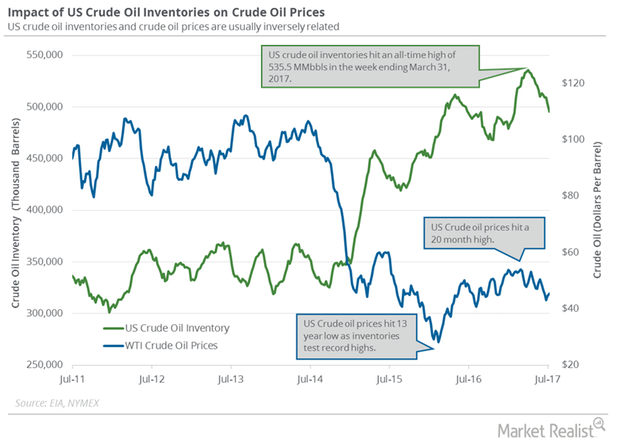 Supply, Demand: Will Crude Oil Futures Rally Be Short-Lived?
US crude oil futures
August WTI (West Texas Intermediate) crude oil (VDE) (UCO) (XLE) futures contracts rose 1.0% and closed at $45.49 per barrel on Wednesday, July 12, 2017. Brent crude oil futures rose 0.50% to $47.74 per barrel on the same day.
Prices rose due to the following:
larger-than-expected fall in US crude oil inventories between June 30, 2017, and July 7, 2017, the biggest weekly fall since September 2016
larger-than-expected fall in US gasoline inventories between June 30, 2017, and July 7, 2017
downward revision to US crude oil production's outlook for 2018
fall in monthly US crude oil production
S&P 500 Index (SPY) (SPX-INDEX) rising 0.70% to 2,443.3, supported oil prices
Production caps expected to be placed on Nigeria and Libya's crude oil production at the meeting on July 24, 2017
WTI crude oil prices have risen 7.0% since June 21, 2017. For more on bullish drivers, read Crude Oil and Product Inventories Impact Crude Oil Futures and Crude Oil Futures Rose for the Seventh Straight Day.
Article continues below advertisement
Higher crude oil (IYE) prices have a positive impact on oil and gas exploration and production companies. Likewise, oil and gas producers such as QEP Resources (QEP), PDC Energy (PDCE), and Sanchez Energy (SN) rose 3.2%, 1.5%, and 2.7%, respectively, on July 12, 2017. However, US crude oil (ERY) (ERX) prices have fallen ~20.0% year-to-date. They fell due to the following:
a rise in OPEC's (Organization of the Petroleum Exporting Countries) crude oil production and exports in June 2017
a rise in Saudi Arabia's crude oil production in June 2017
a rise in crude oil production for Libya, Nigeria, and Iran
high crude oil storage in tankers
a rise in US crude oil exports
Prices might not sustain the recent rally due to the following:
OPEC's monthly report stated that non-OPEC producers' productions will rise in 2018. OPEC also expects demand for its oil to fall in 2018 due to the rise in production in the United States, Canada, Brazil, and Russia.
Weekly US crude oil production is expected to rise between June 30, 2017, and July 7, 2017.
A larger-than-expected rise is expected in weekly US distillates between June 30, 2017, and July 7, 2017.
The production cut deal will not be able to remove excess crude oil from the market in the first half of 2017.
Crude oil supply and demand drivers suggest that crude oil (SCO) (BNO) prices could trade lower in the short term.
Let's move on to the rest of this series, in which we'll be taking a detailed look at these crude oil drivers.