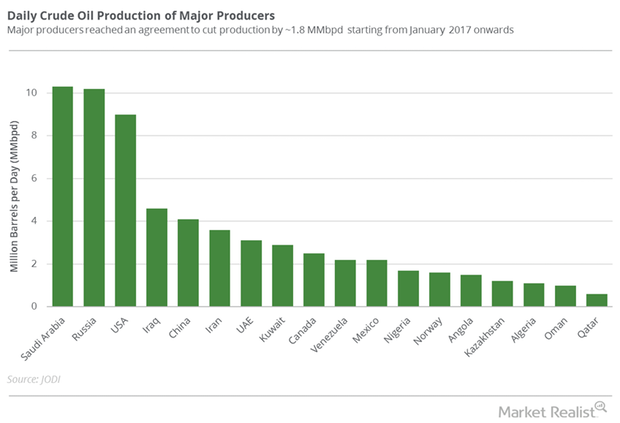 Crude Oil and Product Inventories Impact Crude Oil Futures
US crude oil futures  
August US crude oil (RYE) (VDE) (USO) futures contracts rose 1.4% to $45.04 per barrel on July 11, 2017. Likewise, Brent crude oil futures rose 1.4% to $47.52 per barrel on the same day. Prices are near a one-week high due to the following:
US heating oil futures rose 1.6% on July 11, 2017. It supports products' crack spread. As a result, US refinery margins are near the highest level since late May 2017.
There was a fall in European product inventories in June 2017. It indicates improving demand for gasoline and distillates.
US and Cushing crude oil inventories were expected to fall on June 30–July 7, 2017.
Production caps are expected to be placed on Nigeria and Libya's crude oil production at the meeting on July 24, 2017.
There was a downward revision to US crude oil production's outlook for 2018.
There's strong summer seasonal demand for crude oil and gasoline in the US.
The S&P 500 Index (SPY) (SPX-INDEX) is near a record. Bullish momentum in SPY could support oil and gas demand and the energy sector.
The US dollar (UUP) is near an eight-month low.
For more on bullish drivers, read Crude Oil Futures Rose for the Seventh Straight Day.
Article continues below advertisement
Crude oil performance 
US crude oil futures have risen 6% from the ten-month low on June 21, 2017. Futures have also risen 2% in the last month. However, US crude oil prices have fallen 19.6% year-to-date due to oversupply concerns. The rollercoaster ride in crude oil prices impacts oil and gas producers like Comstock Resources (CRK), Chevron (CVX), Northern Oil & Gas (NOG), and Triangle Petroleum (TPLM).
Market moves focus on US crude oil inventories 
The U.S. Energy Information Administration will release its weekly crude oil inventory at 10:30 AM EST on July 12, 2017. On July 11, 2017, the American Petroleum Institute released its weekly crude oil inventory report.
Next, we'll look at crude oil drivers and US crude oil prices in early morning trade.