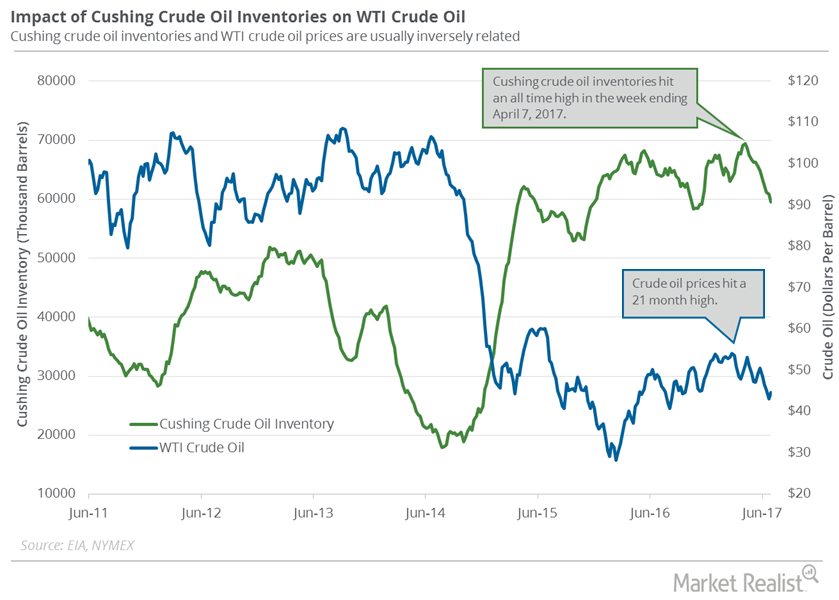 Cushing Inventories: Lowest Level since November 2016
Cushing inventories  
A preliminary survey estimates that Cushing inventories could have fallen on June 30–July 7, 2017. Crude oil inventories at Cushing have fallen for the seventh straight week. The fall in Cushing inventories could benefit US crude oil (ERY) (ERX) (USL) prices.
Higher crude oil prices have a positive impact on oil and gas exploration and production companies' earnings like Bill Barrett (BBG), Matador Resources (MTDR), Hess (HES), and QEP Resources (QEP).
Article continues below advertisement
EIA's crude oil inventory report  
The EIA (U.S. Energy Information Administration) will release its weekly crude oil inventory report on July 12, 2017, at 10:30 AM EST.
In its previous report, the EIA reported that Cushing crude oil inventories fell by 1.34 MMbbls (million barrels) to 59.5 MMbbls. Inventories are at the lowest level since November 2016. Cushing crude oil inventories fell 2.2% week-over-week and 7.2% year-over-year.
Meanwhile, US crude oil inventories fell by 6.3 MMbbls to 502.9 MMbbls on June 23–30, 2017. However, US crude oil inventories have risen 1.4% from the same period in 2016. For more on US crude oil inventories, read Massive Fall in US Crude Oil Inventories Supports Oil Prices.
Impact 
Cushing crude oil inventories hit a peak on April 7, 2017. Inventories have fallen ~15% from the peak. The summer driving season in the US could also drive the demand for crude oil and gasoline. The expectation of a fall in Cushing crude oil inventories could benefit crude oil prices. Read Crude Oil Prices Rise: Is It Time for a Collapse? for more on bullish drivers.
Next, we'll analyze the US crude oil rig count for the week ending July 7, 2017.