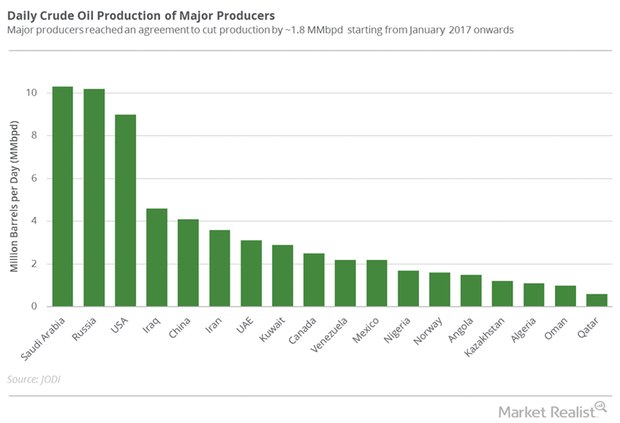 OPEC and Non-OPEC Meeting Could Drive Crude Oil Futures
Crude oil futures 
August US crude oil (UCO) (RYE) (SCO) futures contracts rose 0.4% and closed at $44.4 per barrel on July 10, 2017. Brent crude oil futures rose 0.4% to $46.8 per barrel on the same day. Prices rose due to the following:
an expectation of a fall in US crude oil inventories on June 30–July 7, 2017
an expectation of a fall in Cushing crude oil inventories on June 30–July 7, 2017
an expectation of production caps on Nigeria and Libya's crude oil production
However, Brent and US crude oil prices fell ~4% last week due to oversupply concerns. Moves in crude oil prices impact oil producers like Chevron (CVX), PDC Energy (PDCE), Cobalt International Energy (CIE), and Continental Resources (CLR).
Article continues below advertisement
OPEC and non-OPEC meeting
There will be an OPEC and non-OPEC monitoring committee meeting on July 24, 2017, in Russia. The meeting will likely drive oil prices for the next few weeks. According to some traders, the monitoring committee might cap Nigeria and Libya's production. Nigeria and Libya have ramped up production since November 2016. However, OPEC's secretary general stated that it was too early to hold production cap discussions. OPEC and non-OPEC producers agreed to cap production at OPEC's meeting on May 25, 2017.
Global crude oil supply shortage 
Saudi Aramco is the largest oil producer in Saudi Arabia. On July 10, 2017, Saudi Aramco's CEO said that the global oil market could see a supply shortage in the coming years. Around the world, conventional oil discovered in the last four years fell 50%—compared to the previous four years. Lower amounts of conventional oil could result in a supply shortage.
S&P 500  
The S&P 500 Index (SPY) (SPX-INDEX) rose 0.1% to 2,427.4 on July 10, 2017. The S&P 500 hit 2,453.5 on June 19, 2017—its highest level ever. Bullish momentum in SPY could support oil and gas demand and the energy sector.
In the next part, we'll look at how US crude oil inventories drive oil prices.