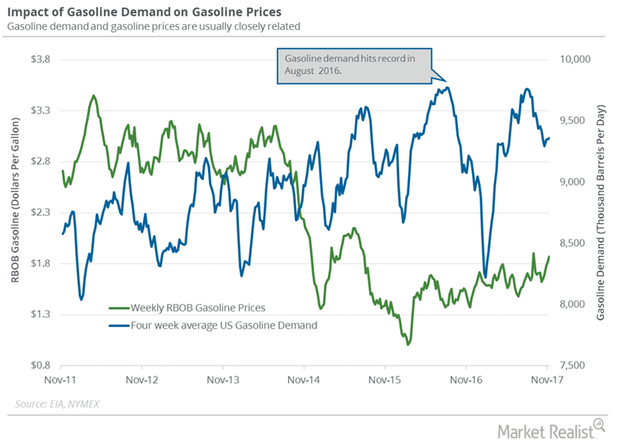 US Gasoline Demand Hit a Record in October 2017
US gasoline demand hit a record in October 
According to the API (American Petroleum Institute), US gasoline demand averaged 9,300,000 bpd (barrels per day) in October 2017. It was the highest level ever. High gasoline demand has a bullish impact on gasoline (UGA) and oil (UWT) (OIL) (DTO) prices.
The EIA estimates that US gasoline demand fell by 324,000 bpd to 9,172,000 bpd on November 3–10, 2017. The demand fell 3.4% week-over-week and by 187,000 bpd or 2% year-over-year. Any fall in gasoline demand is bearish for gasoline and oil (DWT) (SCO) (USO) prices.
Article continues below advertisement
Peak and low   
According to the EIA, US gasoline demand tested a record 9,800,000 bpd in July 2017. Gasoline demand tested 8,000,000 bpd in January 2017—the lowest level since February 2014. The demand has risen by 1,172,000 bpd or 15% since the lows in January 2017. Gasoline prices rose 14% during this period. So far, US crude oil (USL) (UCO) prices have risen 18% in 2017. Higher oil prices impact energy producers (RYE) (PXI) like PetroChina (PTR), Occidental Petroleum (OXY), Stone Energy (SGY), and EOG Resources (EOG).
EIA's US gasoline consumption estimates  
US gasoline consumption could average 9,330,000 bpd in 2017 and 9,350,000 bpd in 2018. Consumption averaged an annual record of 9,320,000 bpd in 2016. High gasoline demand supports gasoline prices and US refiners (CRAK) like Alon USA Energy (ALJ), PBF Energy (PBF), CVR Energy (CVI), and Northern Tier Energy (NTI).